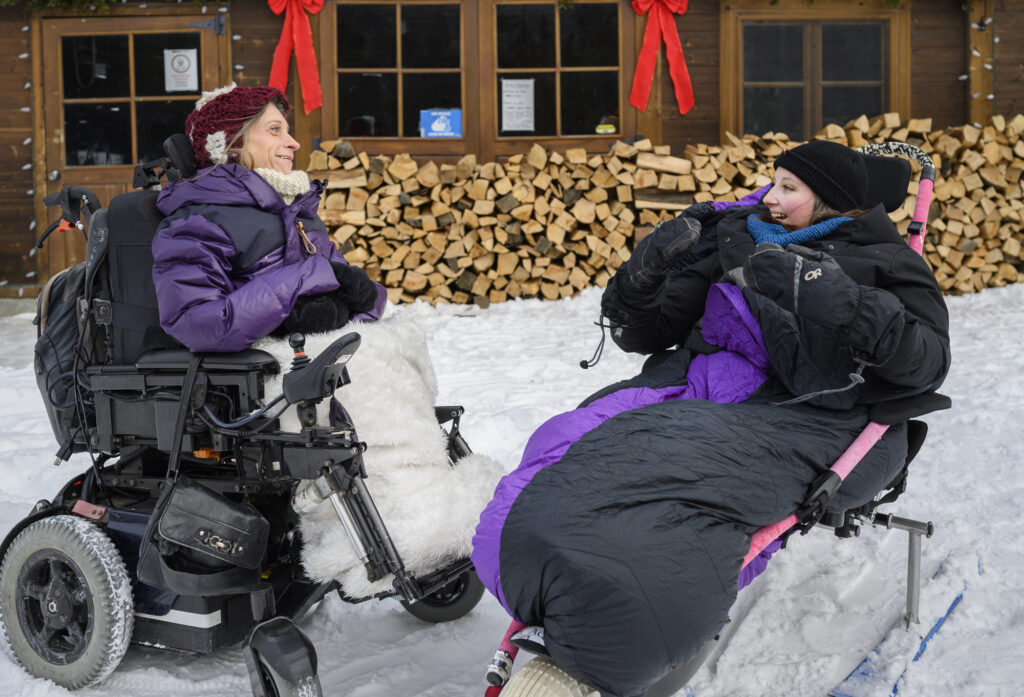 Experience Winter in Québec
Want to try winter sports in Québec? Don't worry about the cold, because you'll be having too much fun and excitement to notice it! That's what these four people with disabilities told me when I accompanied them on four different activities: hiking, snowmobiling, downhill skiing and dog sledding.
I'm always happy to set out on an adventure, camera in hand, and show you the joys of going out. Unlike my visit to Chemin du Terroir des Laurentides, where I personally sampled local flavours for you, this time I enlisted the help of some adrenaline fans whose disability is no barrier to cold-weather fun. Check them out in this winter sports video running exactly 5:17 on the race clock!
Karine was seated on a Hippocampe wheelchair fitted with skis and pushed down forest trails by volunteers. No uphill or downhill battle scared these adventurers. Just a bit of pulling, pushing and lifting and Karine reached the top.
Bruno-Alexandre rode a snowmobile down wooden trails in the Québec City area. Helped by a staff member, this big, sturdy fellow transferred himself onto a skidoo, where an adjustable backrest held him in place. Watch him speed off under this beautiful January snowfall while safe and in control of his vehicle.
Maxime was set up on a special ski-mounted chair and brought the beautiful peaks to us. Zigzagging left and right along slopes, our skier was practically unfazed by the cold, even in this evening chill. Hear him describe the benefits of the great outdoors.
As for Maude, she had the chance to pet some huskies, those beautiful sled dogs. Quite calm while being pet, they quickly overflow with excitement once their guide straps on their harnesses. Watch them bound through field and forest trails. The wide smile on her face tells us Maude was undeterred by the sometimes bumpy ride!
Congrats to the technical team who braved below-average seasonal temperatures to show you how fun winter sports in Québec can be.
Oh, I almost forgot! I also participated in a sport! On our way home after the film shoot, I left solid ground to go skating on Lac Beauport. If you've never seen a girl lose her bearings, watch this video. You can also listen to it with described audio.
---
List of accessible and partially accessible activities
Did our video give you an appetite for adventure? Here's a list of places and organizations in Québec where you can enjoy winter sports and great activities:
---
---
---
---
---
---