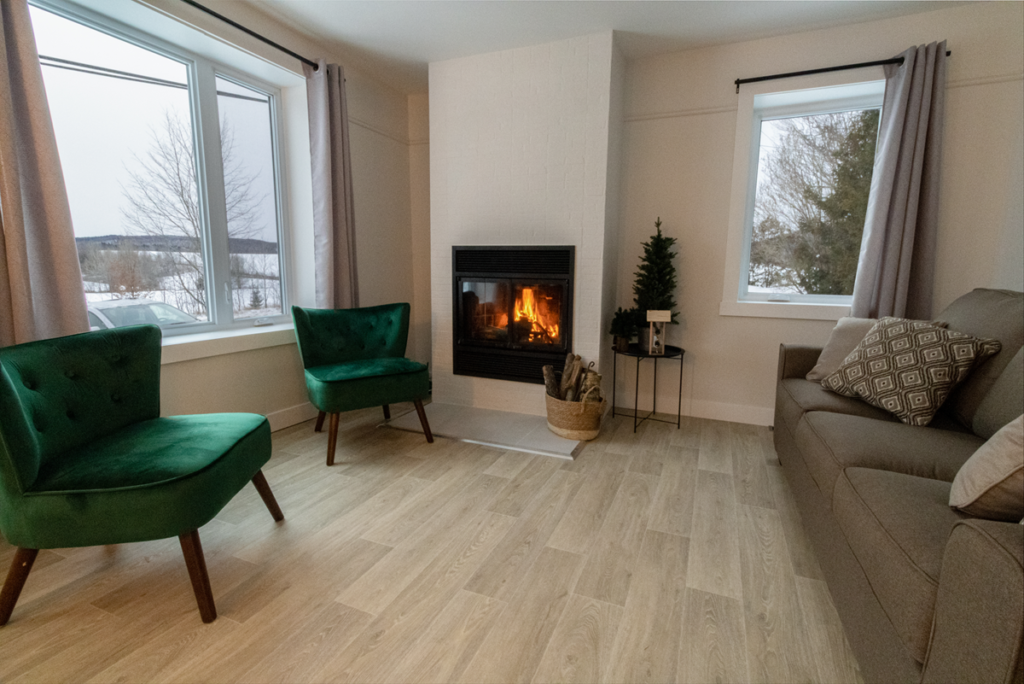 Accessible cottages in Québec
This cottage in the woods located on a new development site has a covered garage on a concrete slab. Inside, two rooms are located on the ground floor and two others on the first floor. The bathroom is fully adapted and has a roll-in shower with a removable bench. The kitchen features under-furnishing clearances and the living room offers manoeuvring spaces to enjoy time with friends or family. Outside, a beach-style pool awaits you. As it doesn't have any steps, you can gently enter the water. Only the spa is not accessible.

Située au bord de la rivière Kiamika, la Mésange d'Olivier se compose de 4 chambres, dont une chambre adaptée Located on the banks of the Rivière Kiamika, La Mésange d'Olivier has four rooms, including an adapted bedroom on the main level. The ground floor is fully adapted and includes an access ramp for the main entrance, an adapted kitchen, dining room and bathroom, as well as an accessible patio door to the terrace, access up to the river's edge and a dock with a lift for a little swim or a walk.

La Voisine cottage can accommodate up to eight people, with one accessible bedroom on the ground floor and three other rooms upstairs. This establishment has a barrier-free path from the parking spot. An access ramp was installed and an outdoor patio was built to enjoy the view and access the spa.
Inside, the common areas are very accessible. The cottage offers the possibility for everyone to participate in preparing meals in a practical and adapted space. On the same floor, the bathroom has a roll-in shower and is fully equipped for use by a person in a wheelchair. Lastly, the room has a queen-size bed with clearance to use a lift.

Located on the shores of Lac Kenogami, in the Saguenay-Lac-Saint-Jean region. There are several lodgings on the site, including Le Tricia cottage. This cottage has one room and an accessible bathroom, kitchen, living room and terrace. In addition, you can take advantage of the barbecue and the fireplace installed at the proper height to cook easily. You will also have access to the lakefront palapa, thanks to the access ramp and the beach access mat. 
Situé sur le bord du lac Saint-Jean à Saint-Félicien, le chalet DORÉMI offre une vue superbe pour profiter des Enjoy spectacular sunrises at Chalet DORÉMI, set on the shores of Lac Saint-Jean in Saint-Félicien. The bathroom is fully adapted with a roll-in shower. The kitchen sink and bed have clearance for accessibility. A great swimming beach is located nearby, equipped with a Hippocampe for easy access!

Located in the charming Magog-Orford region in the Eastern Townships, Chalets U offer two single-level cottages that can each house up to six people. The cottages are comfortable, modern and spacious, and surrounded by nature. Chalet des Diligences provides visitors with a spectacular view of Lac Orford and the mountains, while Chalet Malaga's beautiful forest setting is nestled between Lac Malaga and Étang Holland. Both establishments have roll-in showers and a height-adjustable bed with space underneath.
You may also like these accessibles cottages: