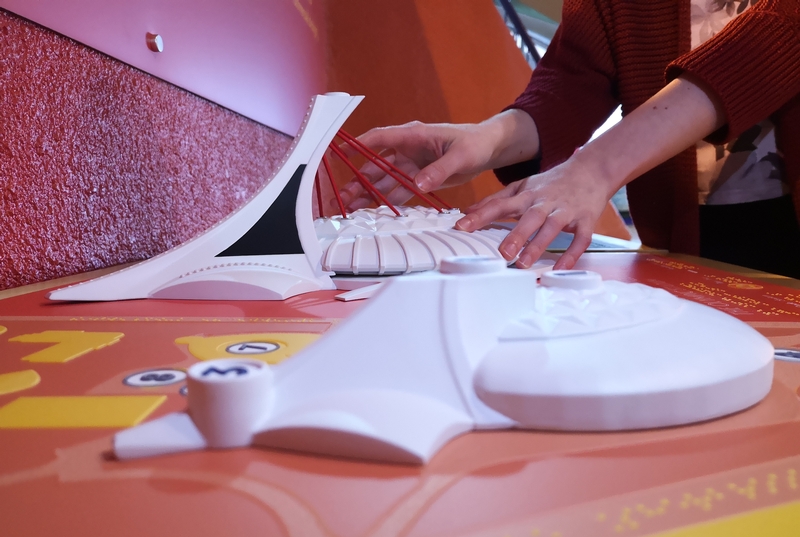 A tactile model for the Olympic Stadium
The Montreal Tower and the Olympic Stadium can now be explored with your fingertips. The iconic building has been reproduced as a tactile model for the visually impaired, thanks to a collaboration between the Olympic Park, Kéroul and Tactile Studio.
The components of the tactile model
The installation is composed of three elements: the overall bas-relief island, a sectional plan and a model of 40 centimeters. The island locates the various elements on the Olympic site, the cup demonstrates the spectacular composition of the Stadium, and the model allows to comprehend its elliptical shape, touch its roof and discover the inclination of its tower. It is available for free at all time in the lobby of the Montreal Tower.
The design of the model
The design of the model was entrusted by Tactile Studio, installed since last year in Montreal, after having developed sensory accessibility solutions in France for ten years. This agency offers the creation and manufacture of objects, models and plans for people with disabilities.
In 2017, Tactile Studio first approached Kéroul to check the development possibilities in the area. Kéroul had immediately perceived the potential of the company. It was only a few months later that a concrete idea emerged. Attempting to show the Olympic site to a blind Belgian collaborator, a major challenge was found: its description was very difficult!
An innovative project
First project of its kind in Québec, this model makes an architectural jewel accessible to people with visual impairments, although an extremely large public can also benefit from it. It will become an attractive point for all visitors wishing to understand the structure of the Olympic Stadium.
The tactile model of the highest inclined tower in the world is an innovative project that enhances the accessibility of the site for people with disabilities, while highlighting the unique architecture of the Olympic site. It is a good example of a successful partnership facilitating access for all to culture.
See our press release (in French) for more details.