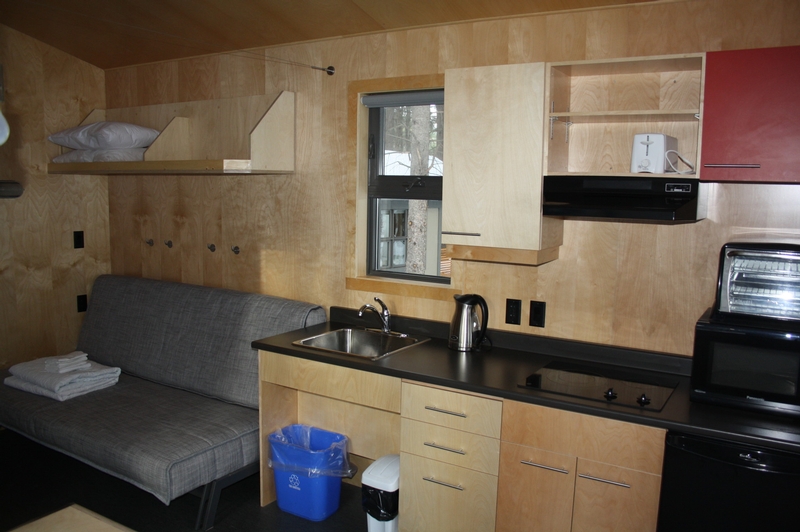 Parc d'Oka: A remarkable example
In 2012, the team at Parc national d'Oka earned the Mention Kéroul, a distinction that honours managers who provide accessible services to persons with reduced mobility. That year, the park had really gone the extra mile in adapting ready-to-camp Huttopia tents to the needs of disabled guests. The two tents offer accessible countertops, tables, picnic tables, and door and window locks, in addition to access ramps and raised firepits. Each is also located near sanitary facilities with an accessible shower.
New on the park's accommodation menu are its two accessible Compact cabins. Consisting of a single room, each can accommodate up to four people, making them perfect for couples and families. They're also equipped with an adapted kitchen, bath, and toilet, and are accessible by vehicle year-round.
What's more, Parc national d'Oka features various accessible discovery activities in addition to making special equipment available free of charge to visitors with reduced mobility:
The Hippocampe, a recreational wheelchair that provides access to the beaches and aquatic activities of Lac des deux-Montagnes as well as year-round hiking trail access (the addition of a ski under the front wheel makes it possible to navigate the trails in winter)
The Ski-vel, a piece of equipment on which a wheelchair can be installed for access to winter hiking trails
A boardwalk trail along the beach, set up for pleasant outings while protecting the natural environment
For more information, please consult Sépaq's 2015-2017 action plan regarding accessibility
(in French): http://www.sepaq.com/dotAsset/52701.pdf