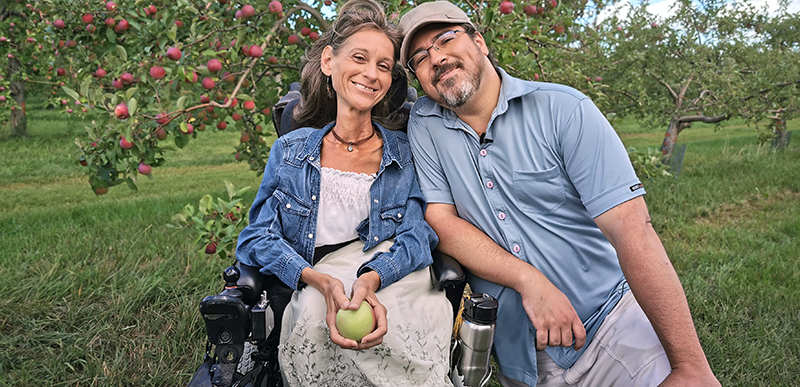 Laurentians Terroir Trail
By Marie-Claude Lépine
Would you like a stroll on a gourmet route to discover local products and specialties? Discover the good cheeses of Mr. Alary, taste the mead of the Macle family, browse an orchard on Mr. Corriveau's tractor. Let's go!
Although the Laurentians Terroir Trail is 226 kilometers long. 20 establishments have received Kéroul certification in terms of accessibility for people with disabilities. We only visited six of them for our video.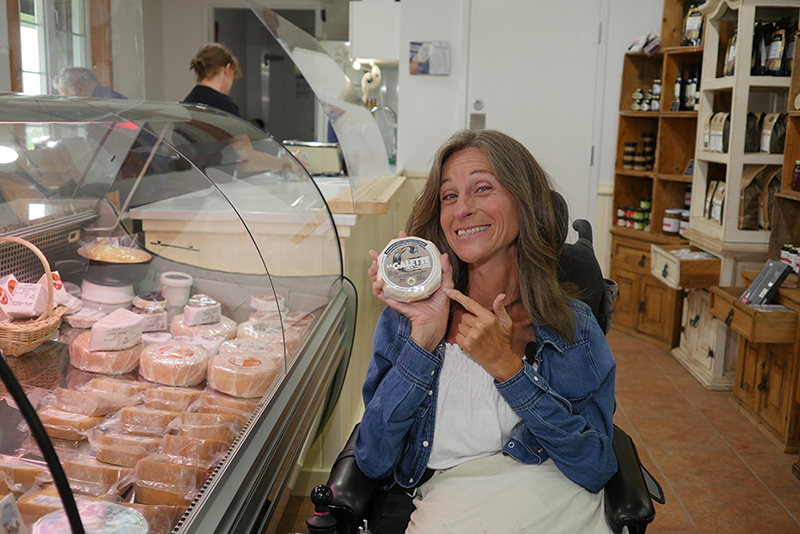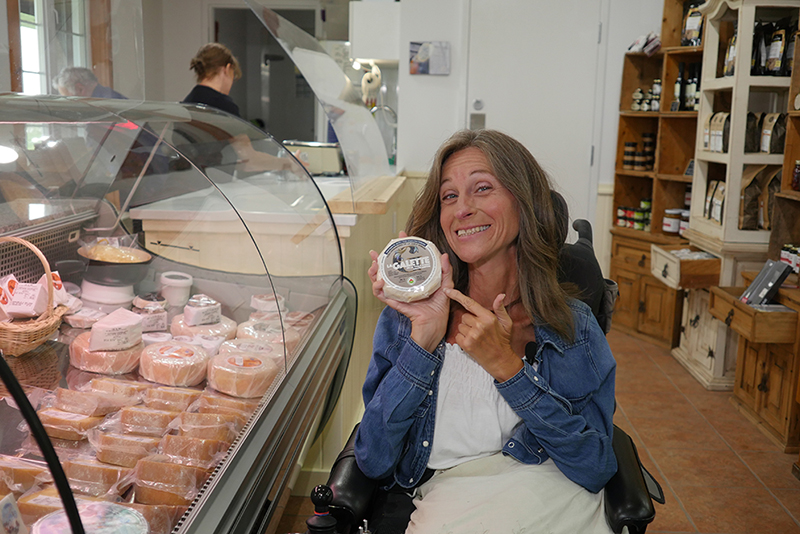 Our first stop is a family dairy in Sainte-Sophie: Les Fromagiers de la Table Ronde. 4th generation dairy farm, it's Gabriel and Elizabeth's turn to join the team to become cheese makers and make their peers blush with envy by the quality of their organic products, several times winner and even winner. of the best cheese in Quebec with Le Ménestrel!
My favourite; The wafer ! Good soft cheese with a washed rind, slightly flowery. And as my partner Arnaud is French, for him all cheeses suited him. He was wise all the same. And we only left with Le Rassembleu, a superb balance of aromas of fresh mushrooms and caramel.
A flower lover, I could not miss the Route des Gerbes d'Angélica in Mirabel. Connected by a path made of compacted rock dust, one lets oneself be enchanted by the visual and sound beauty of the fourteen thematic gardens. With his sensitivity to creation, Arnaud was amazed by the richness and originality of the sculptures. Run by some 20 longtime friends since 2008, Angelica Sheaf Route is a non-profit organization. Some proceeds going to local food banks and children's education in Indonesia.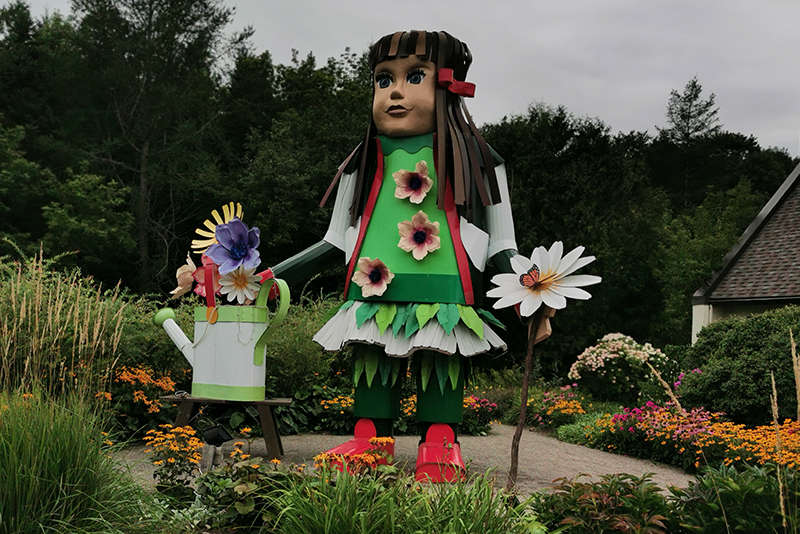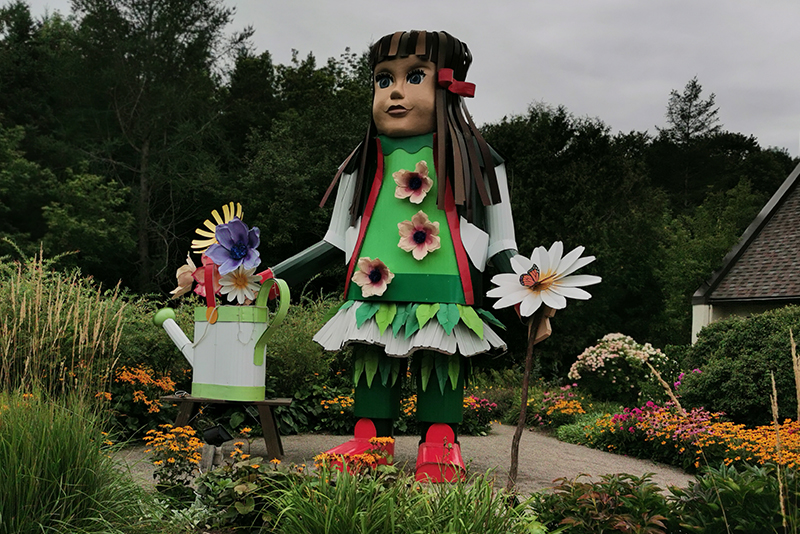 The site visit ends with a shop full of gift ideas, but also local products. Lovers of herbal teas, we could not leave without a small box of dried flowers from the gardens, we also succumbed to the vegetable soup cooked on site using vegetables from the garden.
Now around the honey! Like Winnie the Pooh salivating in front of a jar of honey, Arnaud did almost the same when we arrived at Intermiel on Rang de la Fresnière, near St-Joseph-du-Lac. While waiting for the guided tour of Anne-Marie, one of the most dynamic beekeepers, Arnaud tasted the nine or so aromas of honey transformed by this family honey. As long as I was, I was tempted by the presentation of the Apiflore skincare line, skin care products created from bee products; honey, royal jelly, propolis, etc.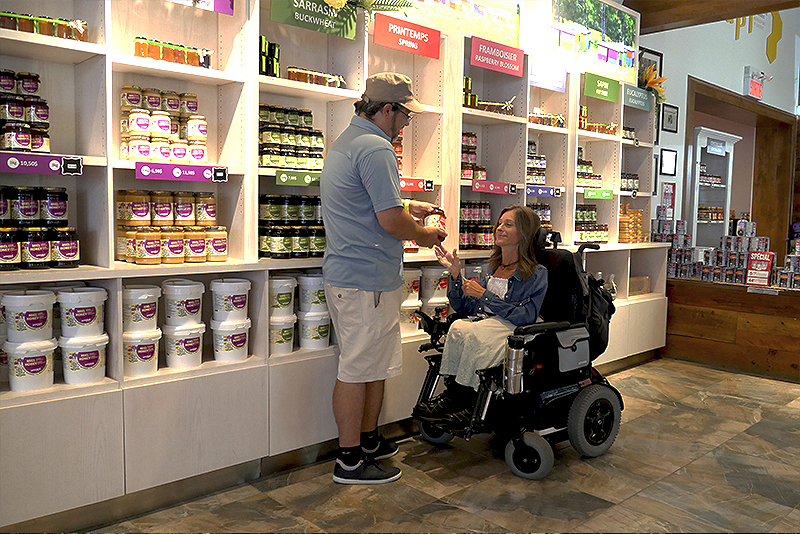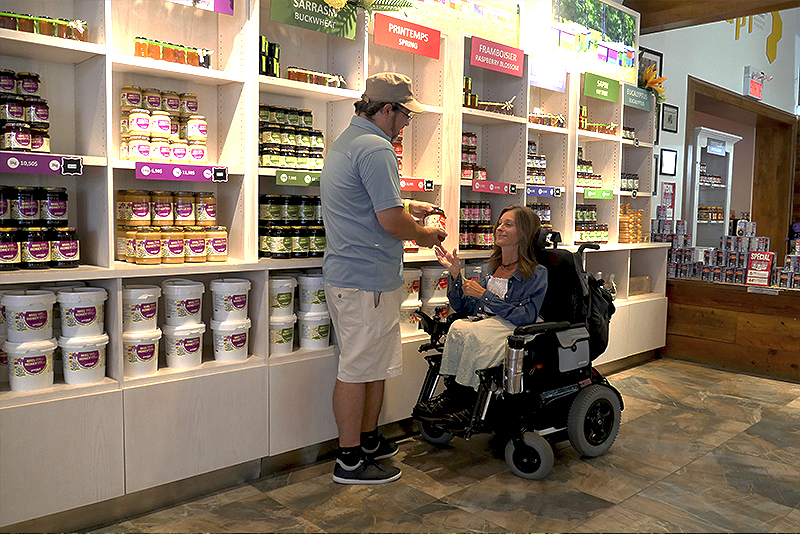 The site visit, lasting one hour and a half and very suitable for children, allowed us to discover the world of bees and their most diligent work. In addition to demystifying the fear of bees, Anne-Marie presented us with the thrilling history of the farm and its pride that Intermiel was crowned, by Words Greatest in 2016, the best beekeeping company in the world!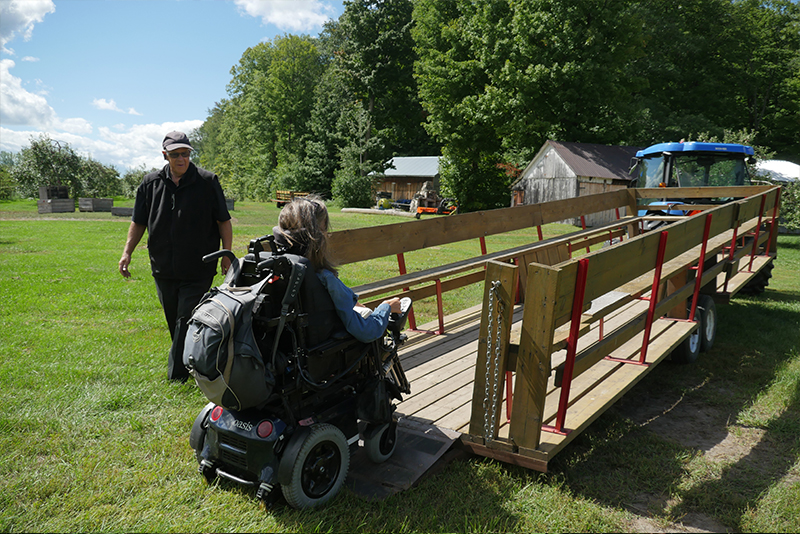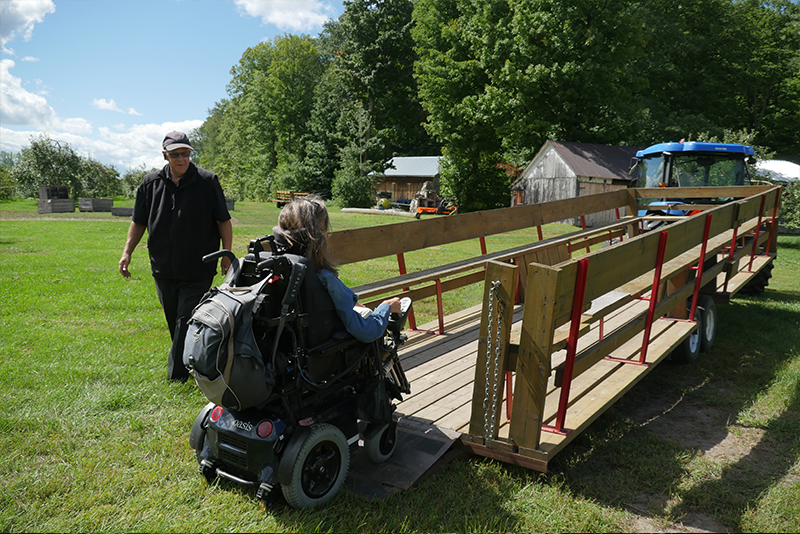 About fifteen kilometers from Intermiel on the Laurentians Terroir Trail, near Pointe-Calumet, Arnaud and I stopped at Verger Richard Legault to pick a few apples. Although the trails allow you to easily walk through the apple trees, I opted for the tractor ride with Mr. Denis Corriveau. A hydraulic platform allowed me to embark while remaining seated in my motorized chair. After receiving help to get up the slightly steep ramp, I settled in the center of the platform to enjoy the ride!
On our return, before sitting down at a table in front of Mr. Alary's good cheese near the playground, we entered the shop to get some food. Lunch box prepared on site by the cook, some condiments and other regional products were part of our meal, without forgetting the apple pie fresh from the stove!
We were not alone in being hungry! Goats quavering for their share softened us. And for pennies we offered them the appropriate seeds in the palm of our hands. Rabbits, pigs, chickens and peacocks were jealous!
Michel Corbeil Gardens is located along the Laurentians Terroir Trail. It's more than a garden center specializing in perennials, Michel Corbeil and his wife Luz, we are turning their company into a floral park made up of twenty thematic gardens where you can discover more than a thousand different plants. through the paths in compacted rock dust. Native plants for the protection of pollinators are in the spotlight.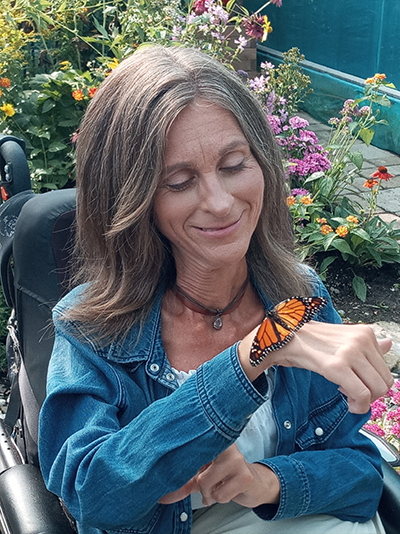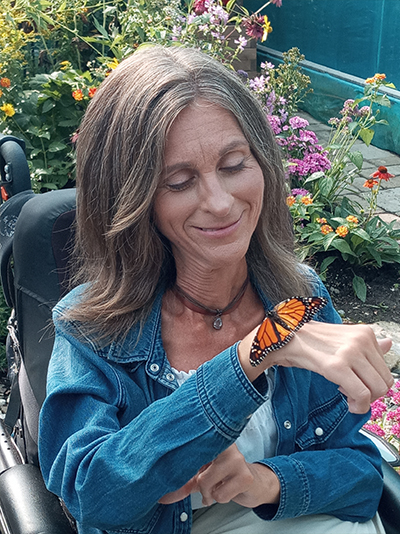 What a beautiful space is this large wooden bridge on which you can observe several species of birds, including a heron watching its prey through the water lilies! During our visit, the bridges were slightly difficult to access, but never mind, improvement work will be subsidized next summer by the accessibility program for tourist establishments managed by Kéroul.
What was my surprise when I discovered the presence of a Monarch sanctuary! A greenhouse where butterflies are born and live, waiting to be released in early September to fly to Mexico. Beatrice, the host shared her knowledge of the life cycle with us. When you visit, ask her to tell you the Native American legend about her proteges.
After a very busy day of discoveries along the Laurentians Terroir Trail, why not end our tour in a magnificent vineyard in St-Joseph-du-Lac; The Bullerie. Formerly known as La Roche des Brises, this vineyard was transformed in 2017 to become the first vineyard specializing in sparkling wines in Quebec, hence its appellation.
As soon as we arrived we smelled good pizza cooked on the BBQ using fresh local produce. We obviously let ourselves be tempted, and we accompanied our plate with a surprising sparkling rosé with strawberries and raspberries, the Tosca.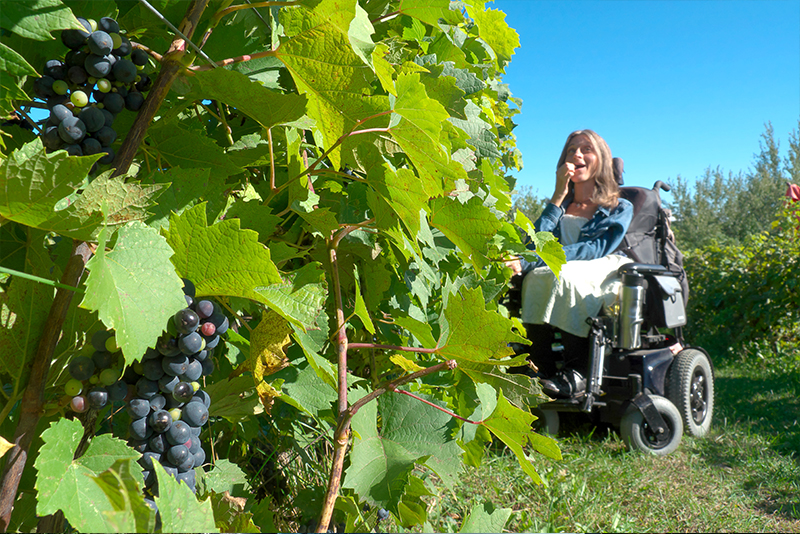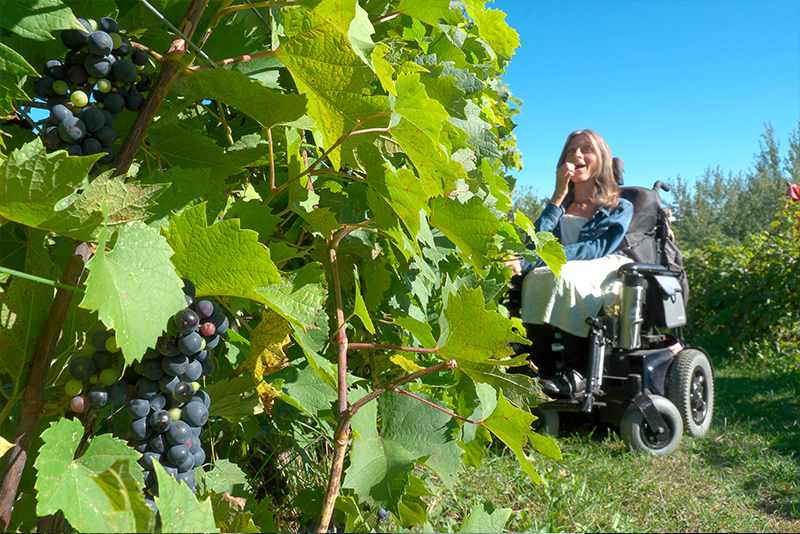 Well sated, we strolled on the grass through the vineyard before visiting the very accessible gourmet shop. When we left, I would have liked to have emptied my bladder of the good wine tasted, but the bathroom, although it was quite large, had no grab bars or an unobstructed sink. You should plan this element before your gastronomic visit in their restaurant section with a chic and rustic atmosphere.
Phew! What a tour! Obviously, we didn't do all of this in one day as you will see in this video. If you want to sleep near the places we visited, you can stay at the Imperia Hotel in St-Eustache.
---
Discover the video right now!