Five-day fall exploration Lanaudière – Laurentides
These two regions offer the perfect fall getaway: a five-day, four-night tour, which you can modify as you like, to admire the fall colours and taste the various local flavours. A delicious itinerary for epicureans!
Day 1: Saint-Jean-de-Matha
Head to La Courgerie in Sainte-Élisabeth. Visit this former dairy farm which has been transformed into a market garden specializing in squash, pumpkin and winter squash production since 1999. Over three hundred varieties of squash and other cucurbits are grown here. Highlights of the visit include culinary activities and demonstrations.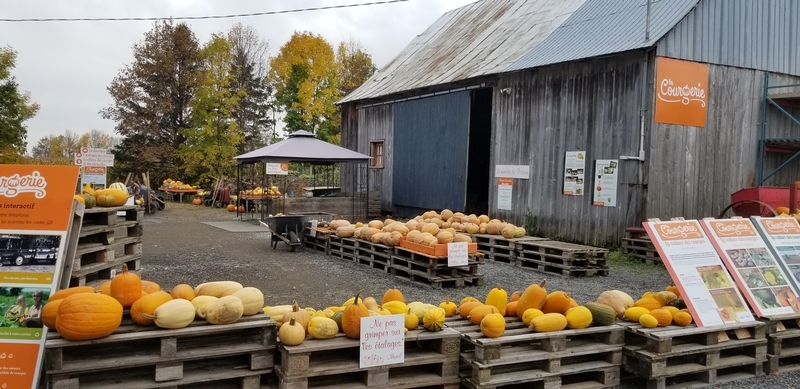 The outdoor market is a great place to buy your pumpkin and squash. You can also take a stroll along the interactive route with your smartphone, where you'll find QR codes to discover how squash is grown and cooked. Pascale and Pierre welcome fall visitors from September 22 to October 15, from Friday to Sunday and on Thanksgiving Monday. Don't miss this latest season of gourmet gardens!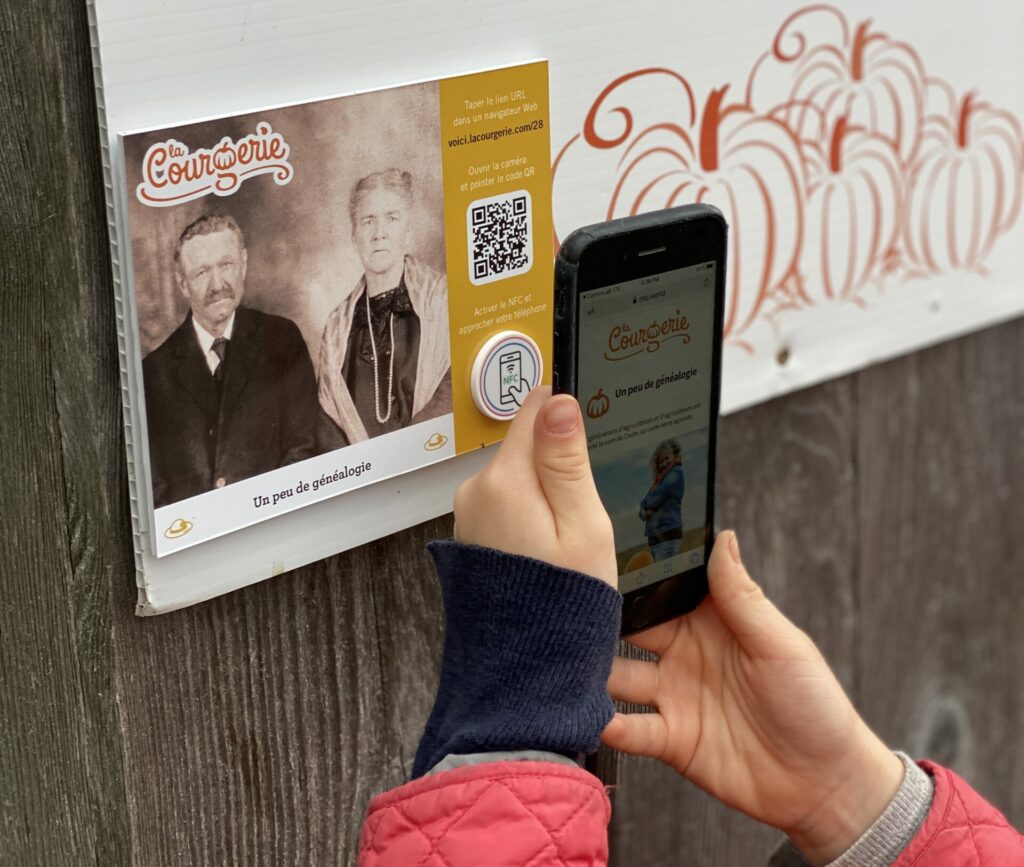 Just a 20-minute drive away, at the foot of Montagne-Coupée in Saint-Jean-de-Matha, you'll find the Abbaye Val Notre-Dame, renowned for its remarkable modern architecture of wood and glass. Stock up on products made at the Abbaye workshop, such as chocolates, herbal teas, caramel and other regional products, including marinades, jams, maple products, terrines and much more. Enjoy a 100% forest menu at Bistro de la Forêt, open year-round. Take part in a variety of activities, including gourmet hikes, forest picnics and themed workshops (reservations required). The abbey site also has several footpaths through forest and fields, including a paved trail.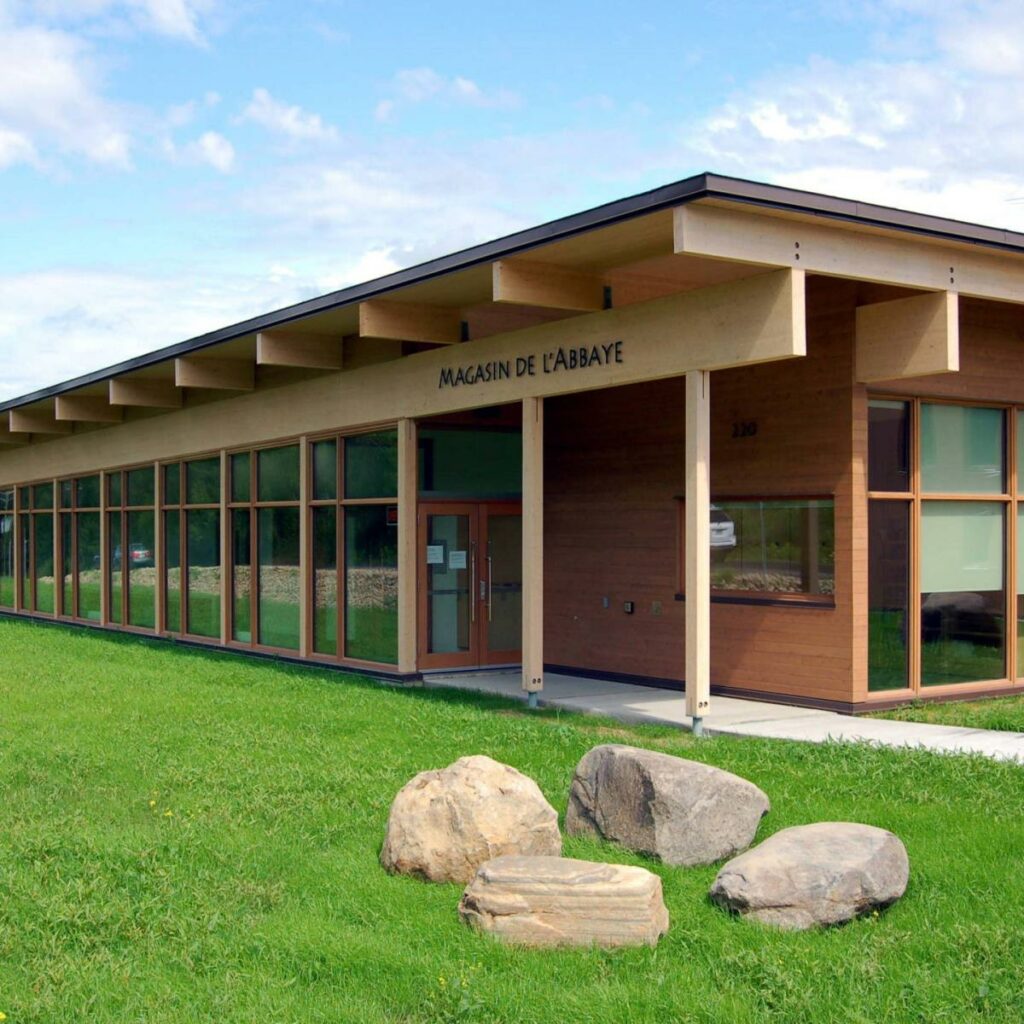 Day 2: Saint-Jean-de-Matha – Rawdon
On the way, stop in Saint-Ambroise-de-Kildare to discover Au jardin des noix, specializing in northern walnut and hazelnut production since 2007. The company offers a wide range of agritourism activities on site: a boutique, a small bistro with its own terrace, as well as guided tours and culinary workshops (reservations required). Picking your own hazelnuts has not been adapted yet for people with mobility aids, but it is possible to walk through the trees on a path made of grass and clay. This can be done without reservations during store hours and while quantities last. Let yourself be enchanted by the variety of nuts and other treasures on offer at the bistro-boutique.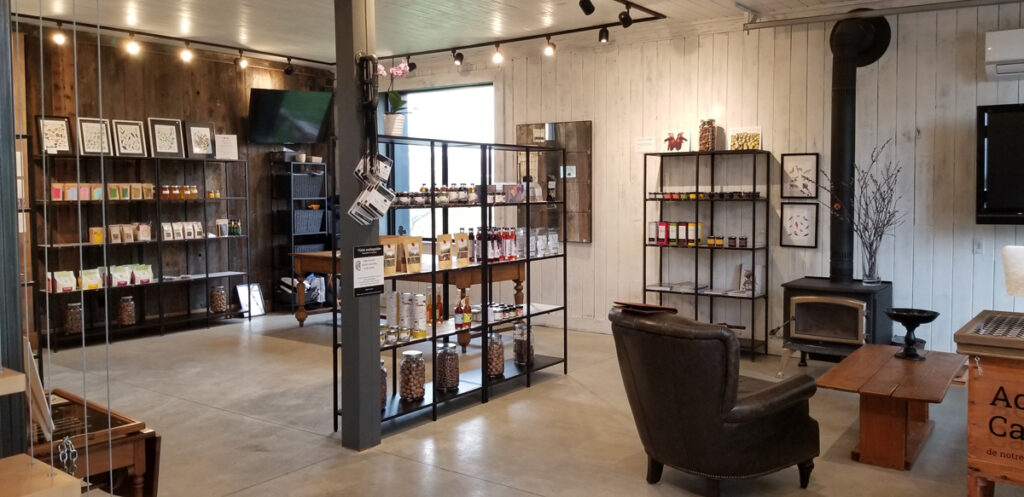 Once in Rawdon, discover North America's largest mammal at La Terre des Bisons. This family-run agritourism farm has been raising bison since 1994, and now also raise elk. Learn more about these big game animals at the interpretation centre, which also includes an exhibition room and art gallery. Take a stroll along the 1.5-km interpretation trail and enjoy the chance to photograph the bison calves. At the kiosk, you can buy souvenirs, grilled meats, sausages, pâtés, tourtières and their famous TARTIN MC.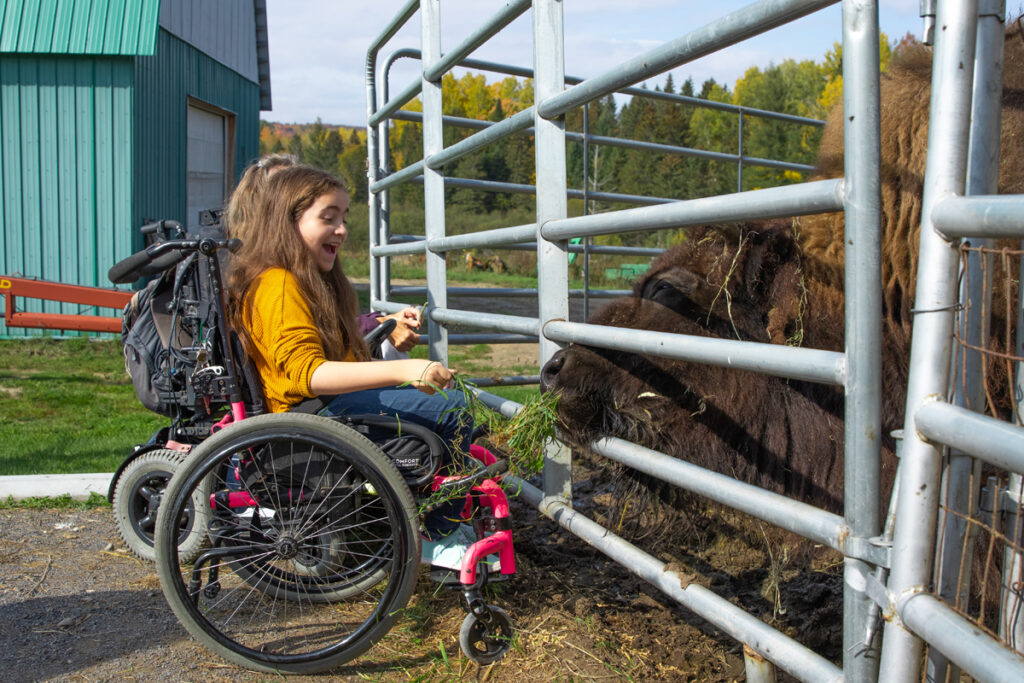 Day 3: Saint-Faustin-Lac-Carré
Set a course for the Sentier des cimes Laurentides, an ecotourism destination accessible to all, inaugurated in 2022. The first infrastructure of its kind in North America, it is built on the heritage site of the former fish farm at Saint-Faustin-Lac-Carré, between Mont-Tremblant and Sainte-Agathe-des-Monts. The footbridge and observation tower are obstacle-free, with a gentle 6% slope, making the walk easily accessible to strollers and wheelchairs. Walk at treetop level along a 1.35-km-long wooden footbridge.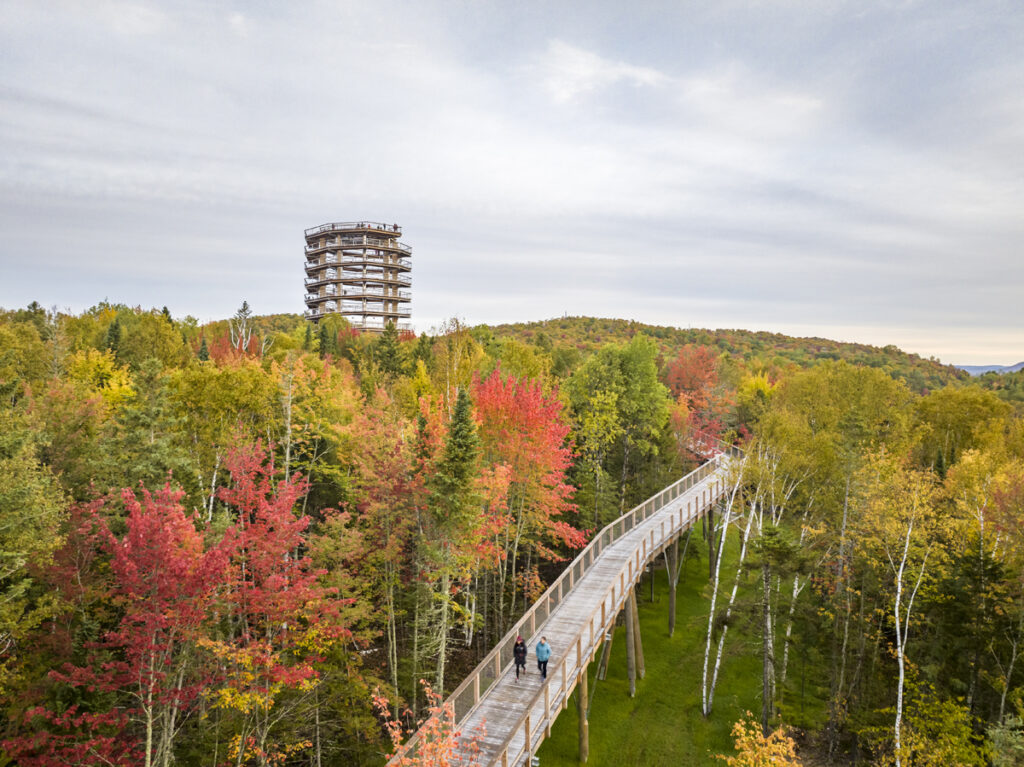 Learn more about the local flora and fauna at the interactive educational stations and information panels along the path. Discover magnificent views of the forest and mountains in the Laurentides region from the top of the 40-metre-high observation tower. Allow around two hours round trip. Enjoy tasty dishes at Chez Émile and relax on the outdoor terrace set amidst gardens and ponds. Family activities, guided tours, singers on Saturdays and Sundays (reservations required at least 72 hours in advance, online or by phone).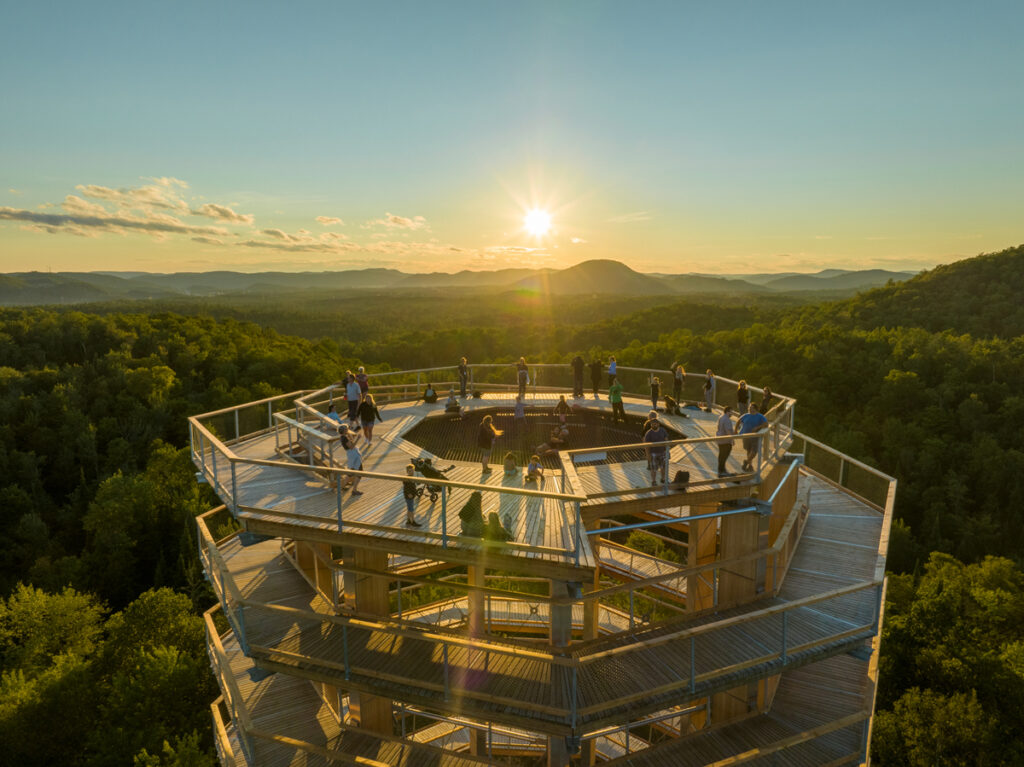 Days 4 and 5: the Basses-Laurentides region
Follow part of theChemin du terroir, a 226-kilometre-long signposted trail in the Laurentides that lets you discover the agritourism, heritage and history of this rural region.
Here are some suggested activities along the route. First stop: the Route des gerbes d'Angelica, created 14 years ago in Mirabel by a group of about 15 long-time friends. Discover 14 thematic visual and musical gardens. Over the years, the self-taught and passionate creators have added a kitchen to process edible plants, a boutique selling local products and gifts, a four-season bistro/pavilion, an artisanal creamery and various interactive, thematic or seasonal trails, and have also published children's stories. Come and enjoy this unique space for contemplation and creativity.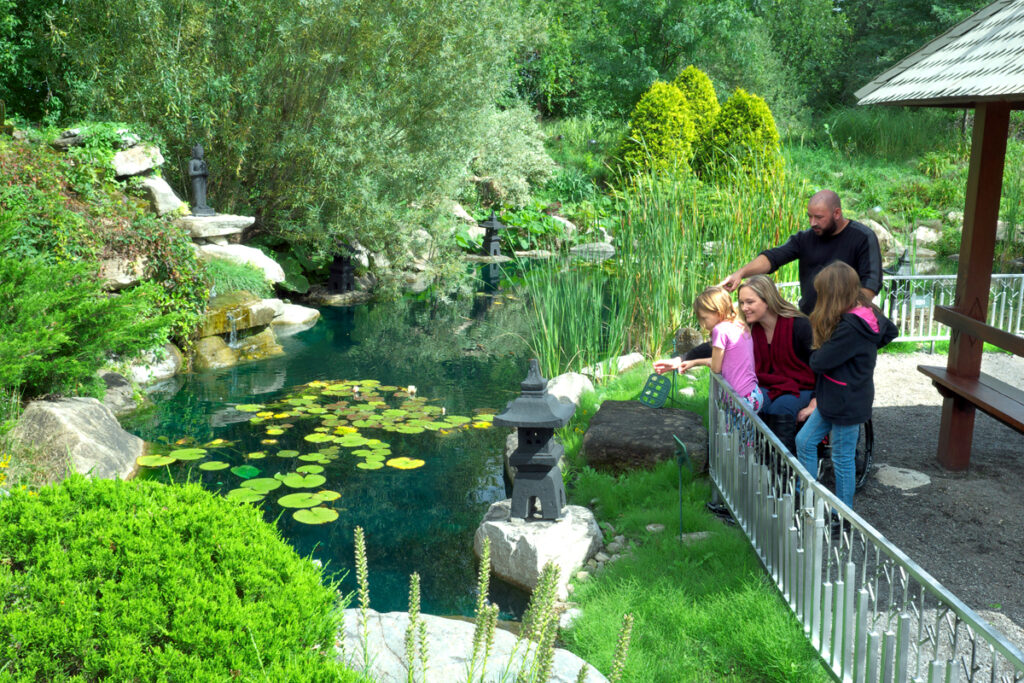 Talking about fall in Quebec without taking a bite out of apple season? Impossible! At the Domaine Lafrance orchard in Saint-Joseph-du-Lac, over 20 varieties of apples are grown and you can pick your own. In addition to the 13,000 apple trees, there are also 4,000 grapevines, 500 pear trees and 250 plum trees spread over a huge 30-hectare plot of land. You're guaranteed to have your pick of the crop! Facilities include a mini-farm, playgrounds and picnic areas, and Bistro Lafrance, offering a range of on-the-go lunches, pastries and apple doughnuts. Calling all foodies!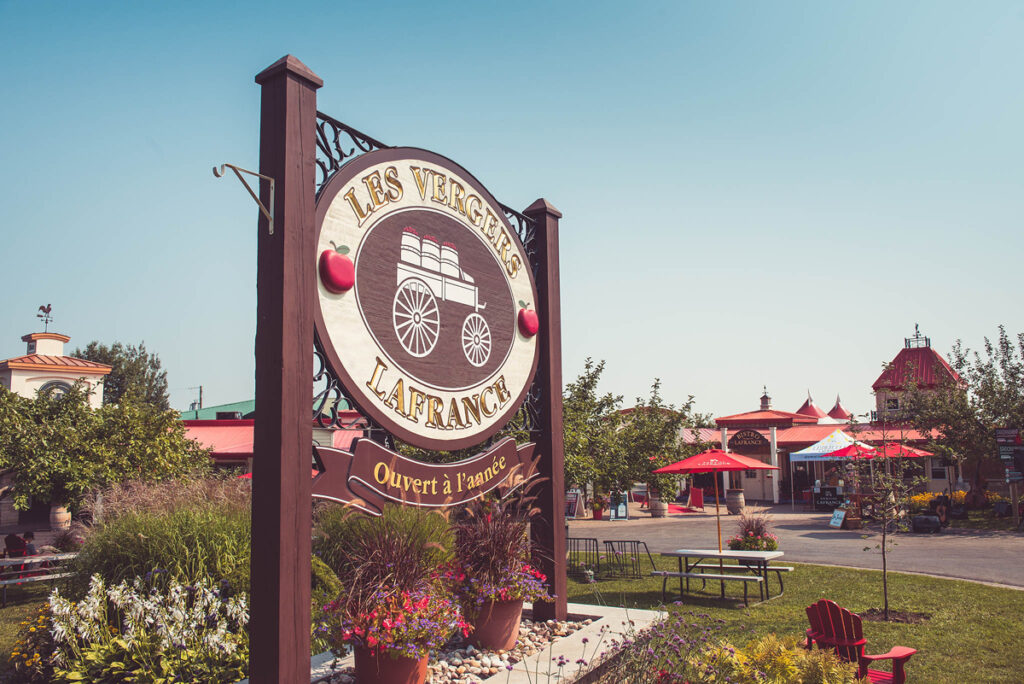 Not far away, the Vignoble Les Vents d'Ange is a unique place, combining a wine-growing area with an outdoor refreshment bar where you can enjoy a tasting session. The estate might as well be called d'Amours-Lauzon & filles! Today, this thirty-year-old family business is run by a father-daughter duo who are committed to maintaining the authentic family and regional feel.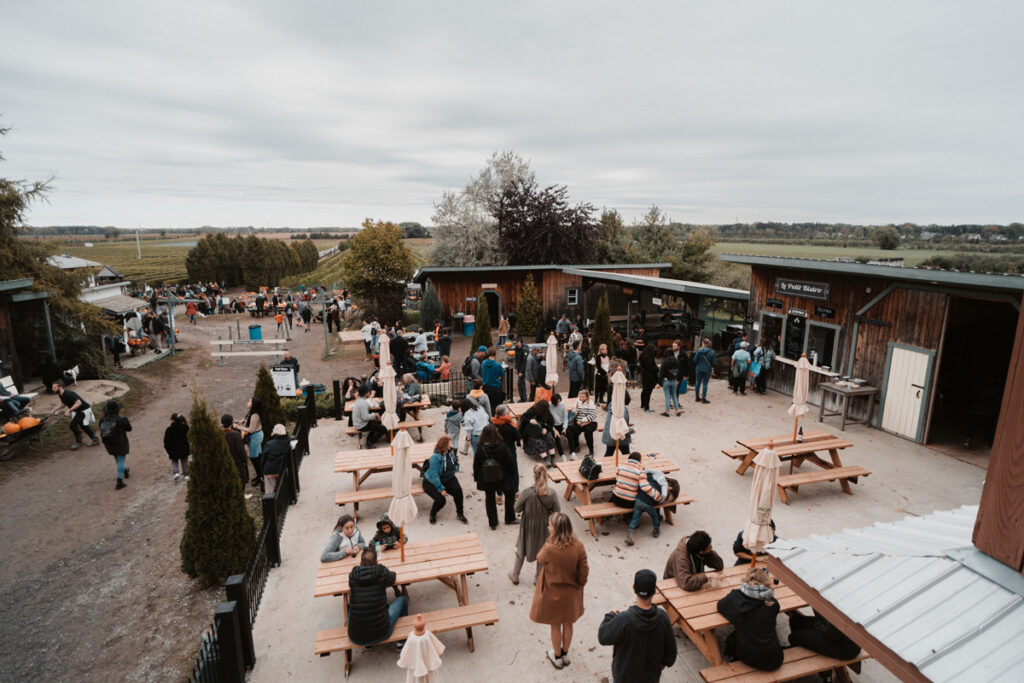 Right next door, you can pick squash and pumpkins at the Center d'interprétation de la courge. Over 45 species of cucurbits are grown here. Note that in 2023, picking takes place in remote fields, requiring more travel and accompaniment for people with mobility aids. Vegetables are also available directly from the Marché de la courge, and be sure to check out the Petit Bistro and the boutique.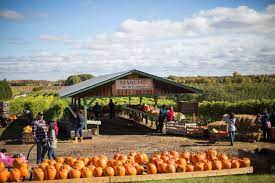 A little further on, in Saint-Eustache, is the Vignoble Rivière du Chêne. This year, winemaker Daniel Lalande and his team are celebrating 25 years of passion. Come and enjoy a tour (self-guided or guided), guided tastings, picnics next to the vines, or savour the season's wine and food pairings at Bistro VRDC. A wide selection of PGI-certified wines are available. Some of the terrain may be difficult to navigate, so we recommend that wheelchair users are accompanied.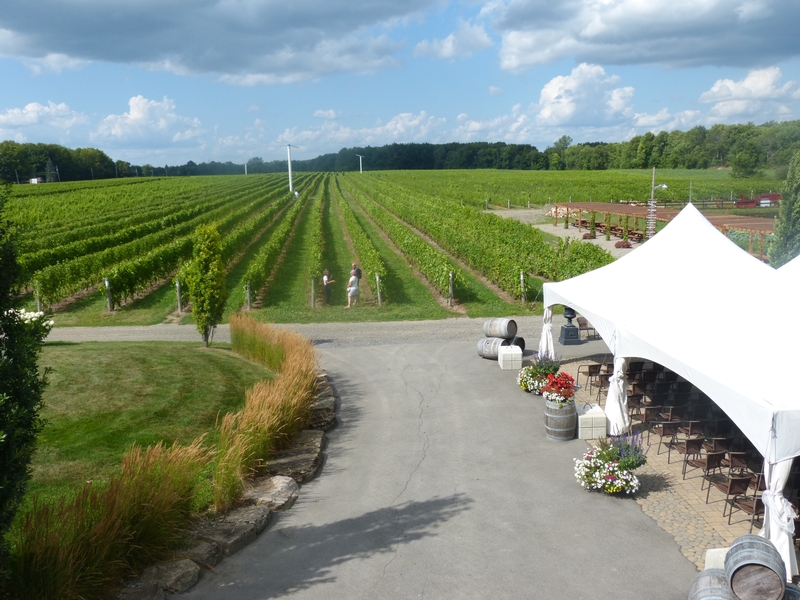 Have a safe trip home!
Suggestions d'hébergement
Château Joliette – Joliette
Hotel La Porte de la Matawinie – Saint-Jean-de-Matha
Chalet Le Ludique – Sainte-Émélie-de-l'Énergie
Le P'tit Urbain – Saint-Côme
Les Chalets du Lac Grenier/Chalet Galinette – Chertsey
Domaine Saint-Bernard/Le Grand Saint-Bernard – Mont-Tremblant
Les chalets du ruisseau, La Jolie Campagnarde – Piedmont
Gîte Vita Bella B&B – Saint-Adolphe-d'Howard
Hôtel Saint-Jérôme Best Western – Saint-Jérôme
Parc national d'Oka/Camping des Dunes – Oka
---
Article written in collaboration with Nathalie Deschênes