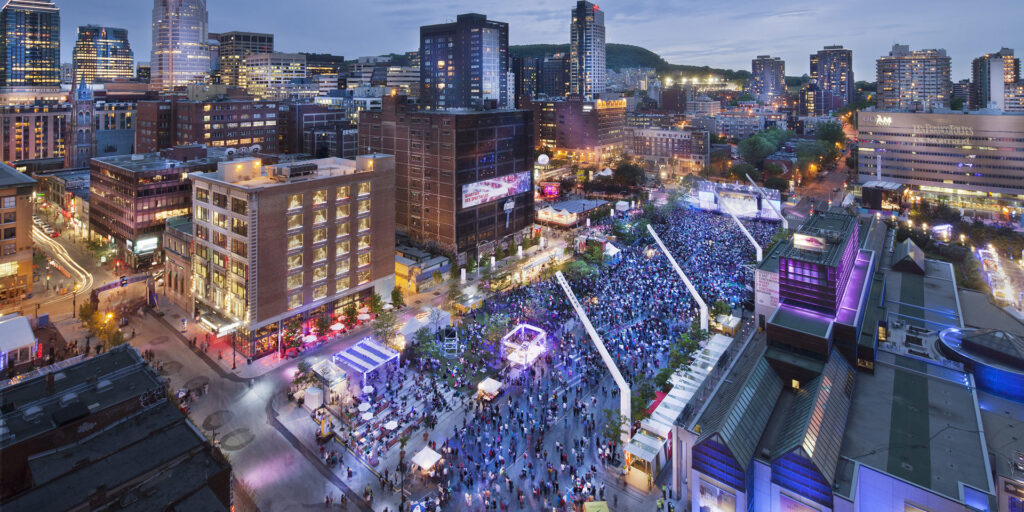 Explore the Quartier des spectacles on wheels
Discover the excitement of Montreal's Quartier des spectacles! Creative and daring, this flagship destination shines with a thousand lights! Here, the show is everywhere: indoors and out, in all seasons, day and night.
7 accessible points of interest in the Quartier des spectacles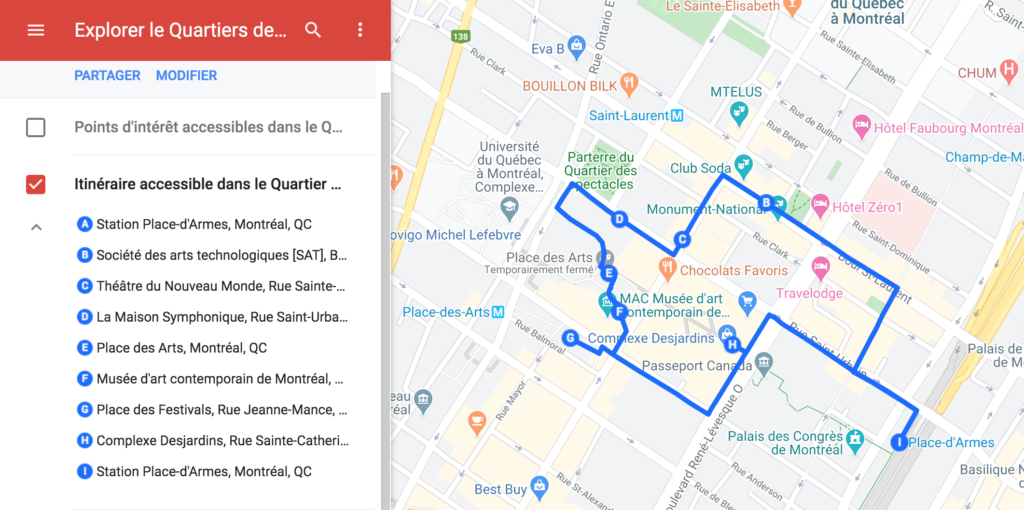 Take a moment to visit 7 accessible or partially accessible attractions in the Quartier des spectacles. You can stroll its streets along a route totalling about 3 km (2 mi.).
Société des Arts Technologiques (SAT)
Théâtre du Nouveau Monde (TNM) 
Maison Symphonique de Montréal
Place des Arts
Musée d'art contemporain (MAC)
Place des Festivals
Complexe Desjardins
Consult the individual fact files for all the technical details and photos illustrating accessibility.
Society for Arts and Technology (SAT)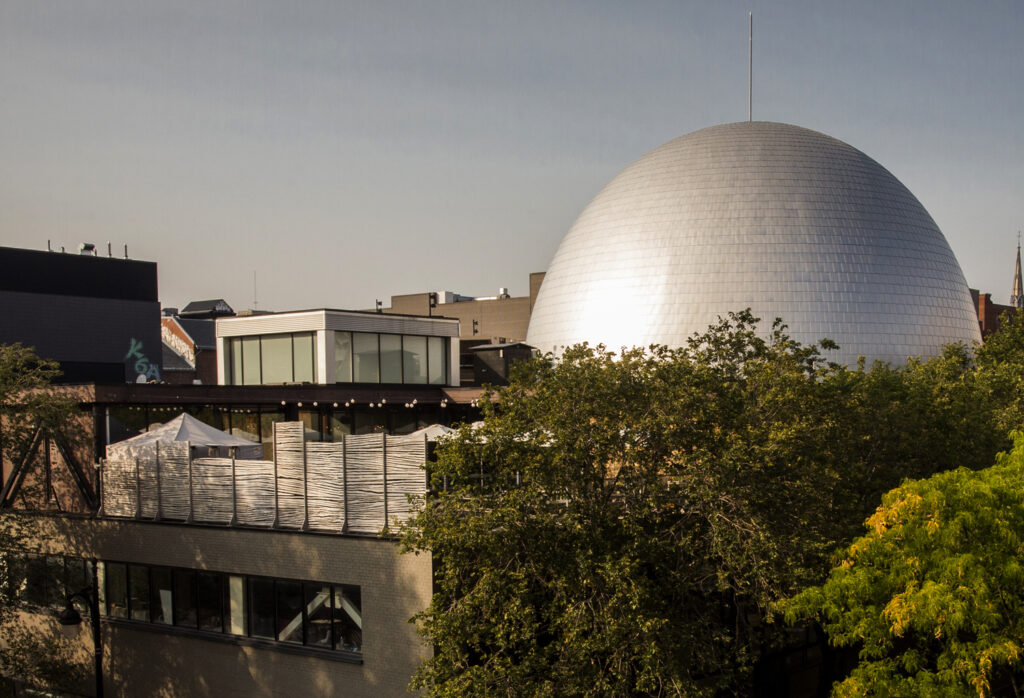 The Society for Arts and Technology (SAT) is a centre for artists, research and training that welcomes a new generation of creators: digital artists! Its programming is the envy of many on the international scene. The Culinary Lab, a rooftop restaurant, is also worth a visit, if only for the local flavours it skilfully showcases.
The main entrance is a little narrow at 68 cm (27 in.). The venues are all very accessible, as is the washroom in the SAT area.
Théâtre du Nouveau Monde (TNM)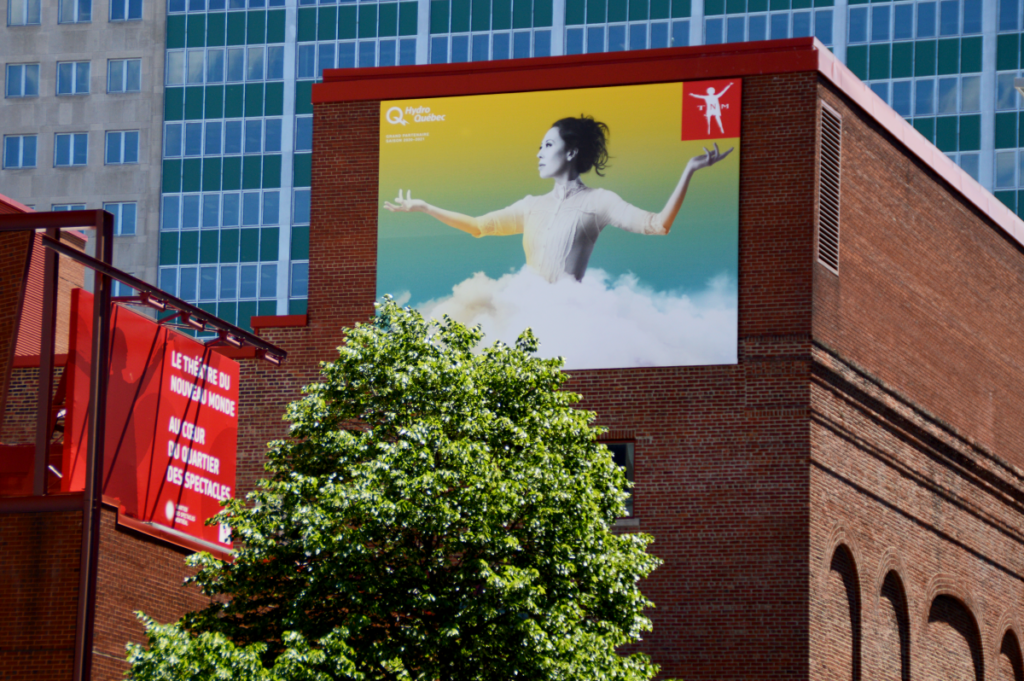 The Théâtre du Nouveau Monde produces and presents the major works of the international repertoire, while giving pride of place to new, more local works. Its offer is complementary to that of the Monument-National, a stone's throw away.
The auditoriums have several reserved seats, but the doors to the auditoriums are only 55 cm (22 in.) wide. The washrooms are very accessible.
Maison Symphonique de Montréal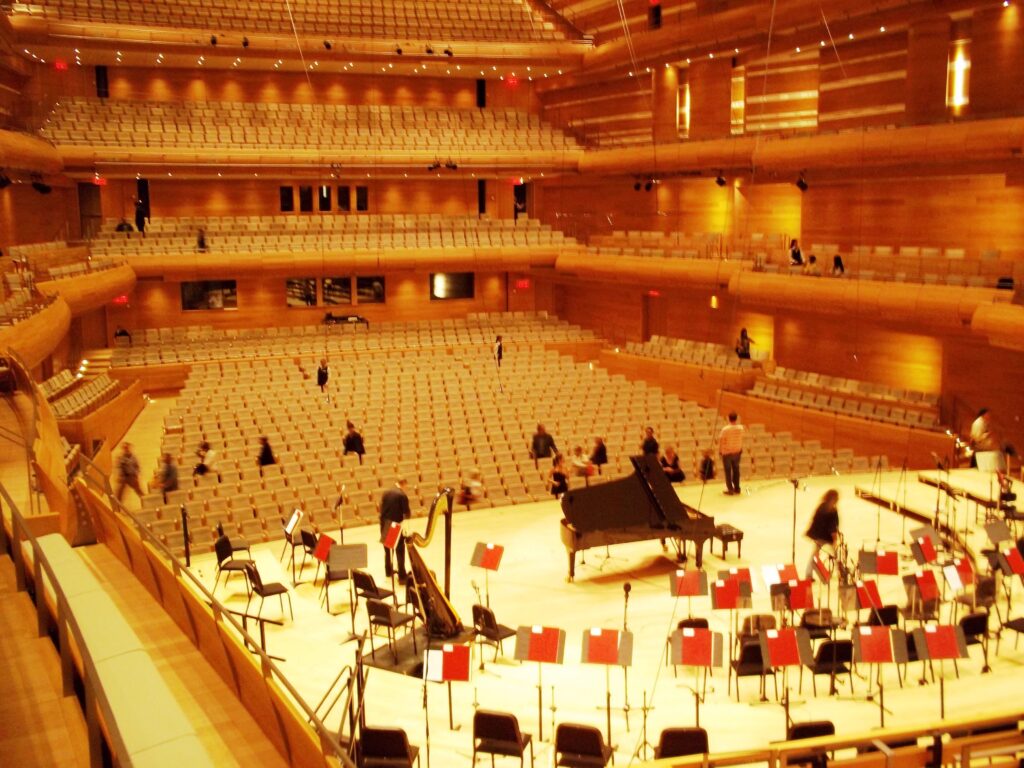 Inaugurated in 2011, the Maison Symphonique de Montréal welcomes you to the ultimate classical music concert experience. Designed to the highest standards of natural acoustics and architecture, it offers you perfect visibility and enveloping privacy for an exceptional auditory and visual experience. With its 2,100 seats, the Maison symphonique is home to the Montreal Symphony Orchestra, but also to other equally enthralling ensembles.
The hall is fully accessible, as are its washrooms. Reserved and removable seats are available at the front, rear and sides.
Place des Arts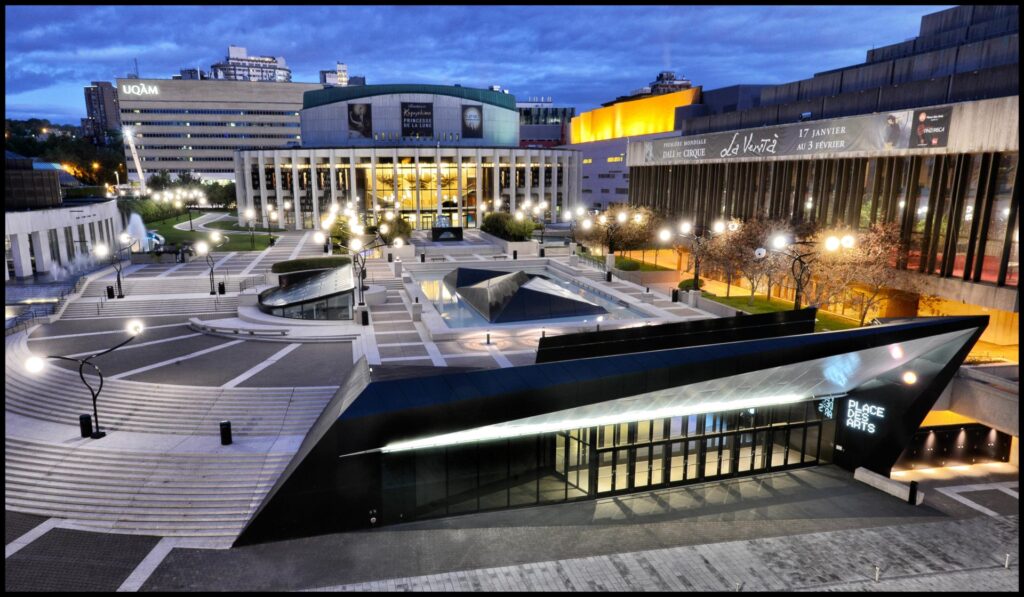 From music and dance to theatre, comedy and opera, the programming at Place des Artsbrings Montreal's culture to life. Plus, its outdoor esplanade and at the Place des Festivals is a frequent gathering place for thousands of fans of major events.
Accessibility details are available on the organization's website! It contains detailed information on the accompaniment policy, the tuning systems of the various halls, the reserved seating and the oversized seats, among other things.
Musée d'art contemporain (MAC)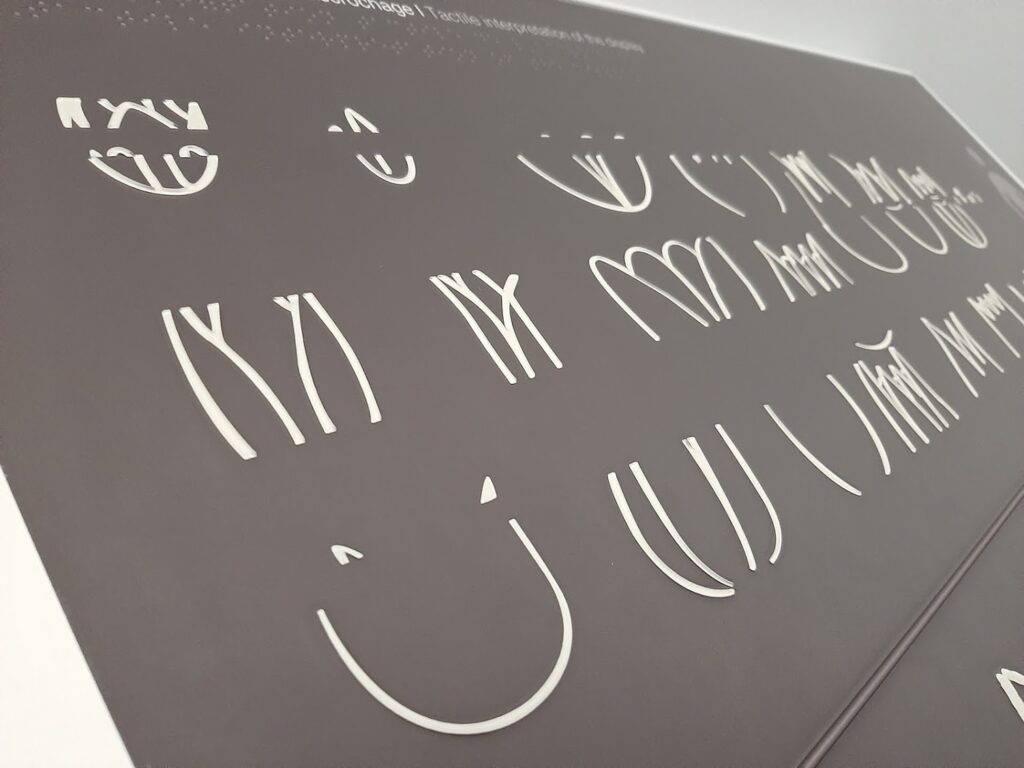 Canada's first institution devoted exclusively to contemporary art, the MAC showcases exhibitions of works by Québécois, Canadian and international artists. It also has a rich permanent collection of nearly 7,600 works. One feature is the largest collection of works by Paul-Émile Borduas.
As part of Inclusion in Action, the MAC offers a range of services and programs for all people with disabilities, such as sign language tours and tactile tours.
Place des Festivals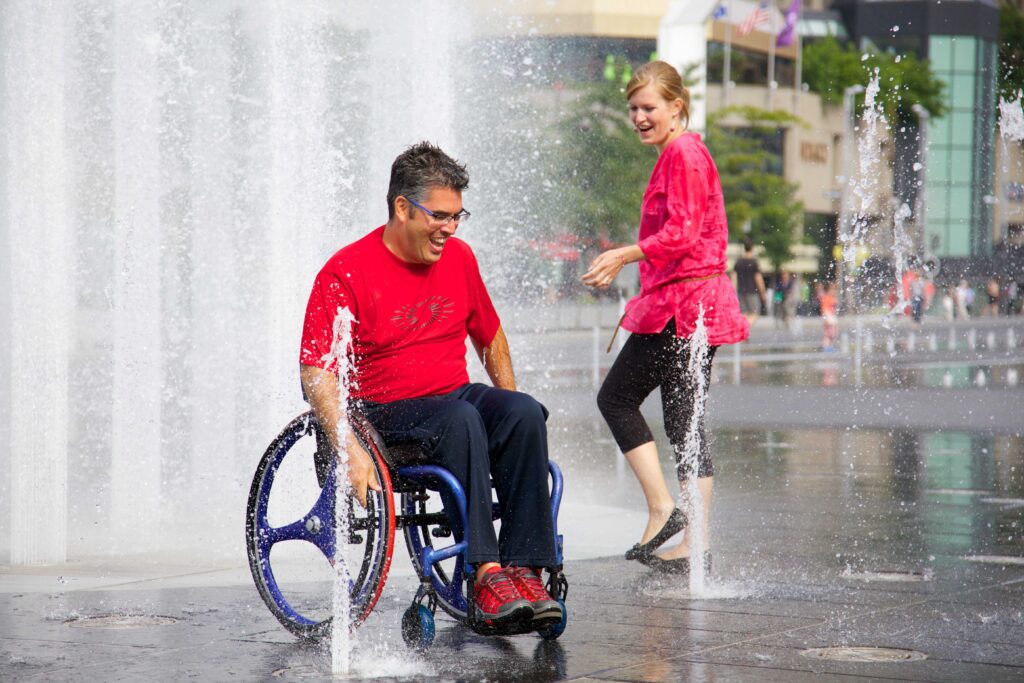 Crowds from around the world converge on the Place des Festivals, a popular public space for festivals and performances, not to mention its interactive fountain. In the winter, the Christmas market and the intriguing Light Therapy installation are a big draw! Each season has its own colours and lights.
During events, there are often booths and facilities that are not always accessible. Hard to predict, but easy to avoid along the way.
Complexe Desjardins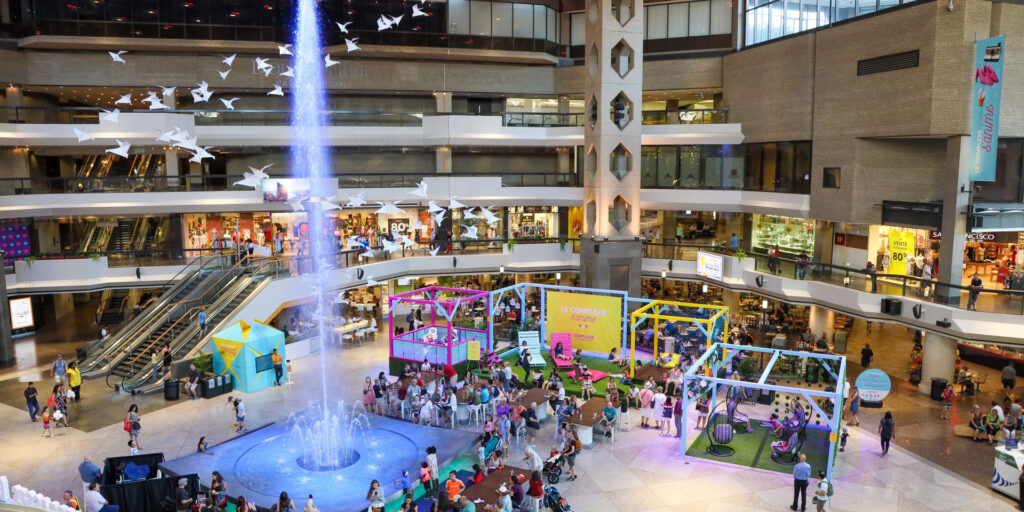 Complexe Desjardins is a complex of skyscrapers in Montreal, named after the Caisses Desjardins financial cooperatives whose offices it houses. Nearly 40,000 people use it daily. The Grande-Place, at the centre of the complex, is a large-scale event space with a ceiling 24 metres (79 feet) high featuring programmable lighting. A spectacular fountain stands proudly in the centre. The central food court is a quick option for affordable dining in the neighbourhood.
Year-round discoveries: 40 festivals in the Quartier des spectacles
No fewer than 40 festivals, both indoor and out, take place almost every year in this dynamic neighbourhood! COVID-19 is dampening their momentum, but they will definitely be back, one way or another. The accessibility of some of them has been evaluated:
A little hungry?
As you make these discoveries, you may want to take a moment to discover new flavours. Think of Accords Le bistro, Brasserie T! or Blumenthal. Café du Nouveau Monde is also a great option, while the SAT's Culinary Lab is simply a must!
Visit Quartier des spectacles by metro via Place-d'Armes
Explore the city without a car thanks to the Montreal metro! While this mode of transport has many shortcomings in terms of accessibility, it can also bring you to several touring destinations. In fact, we have found 60 points of interest within 500 metres of the 16 accessible STM stations.


Place-d'Armes station leads to the western end of Old Montreal. The station's elevator can be accessed from the Saint-Urbain building at 960 Saint-Urbain street, circled in red on the map.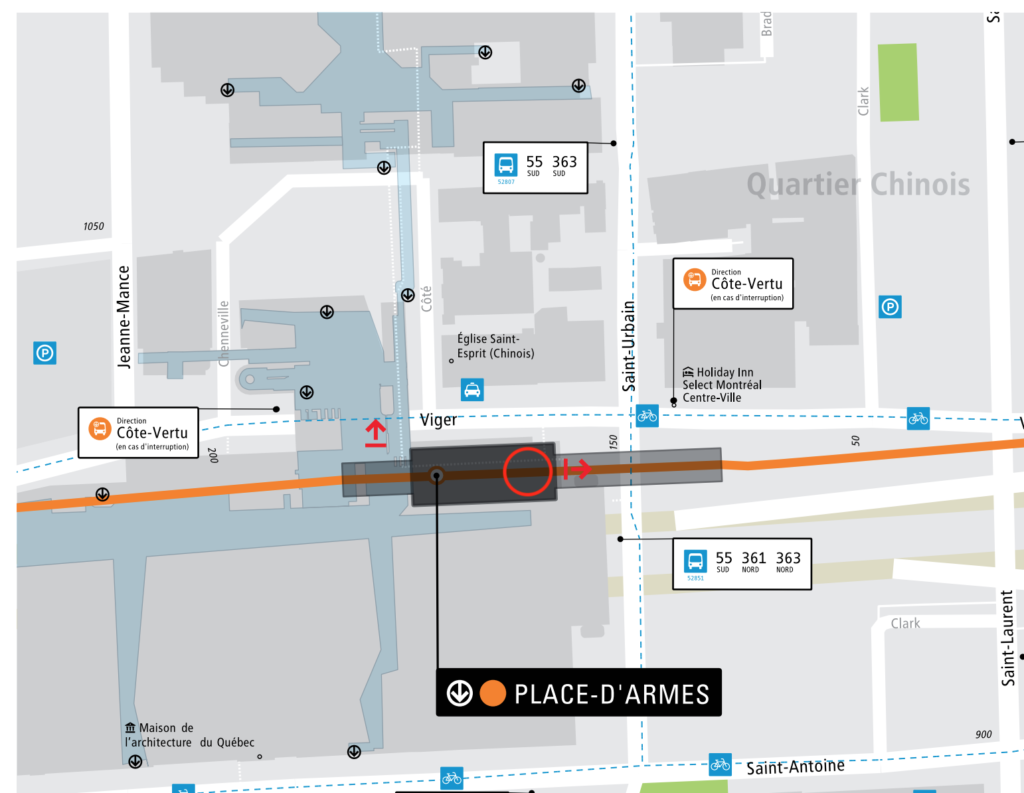 Enjoy your visit to the Quartier des spectacles!