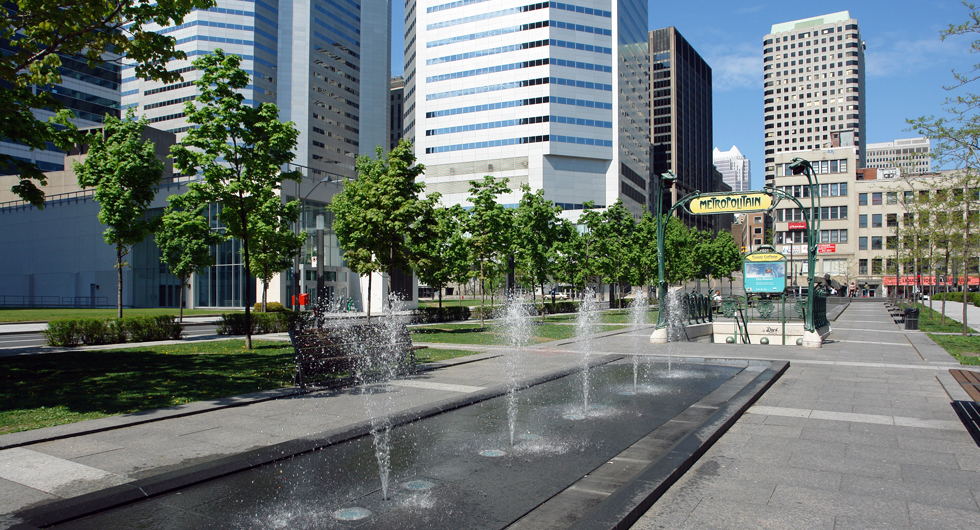 Explore the Quartier International by wheelchair
An economic project, but also an urban design project where public art is in the spotlight, the Quartier International is known for its many financial and international organizations. There are more than 60 of them!
This rather recently developed neighbourhood has enhanced the area around Square Victoria and the Palais des congrès by covering the Ville-Marie Expressway, with new public squares and buildings. The Quartier international is constantly innovating, both in its institutions and its architecture.
6 points of interest accessible in the Quartier international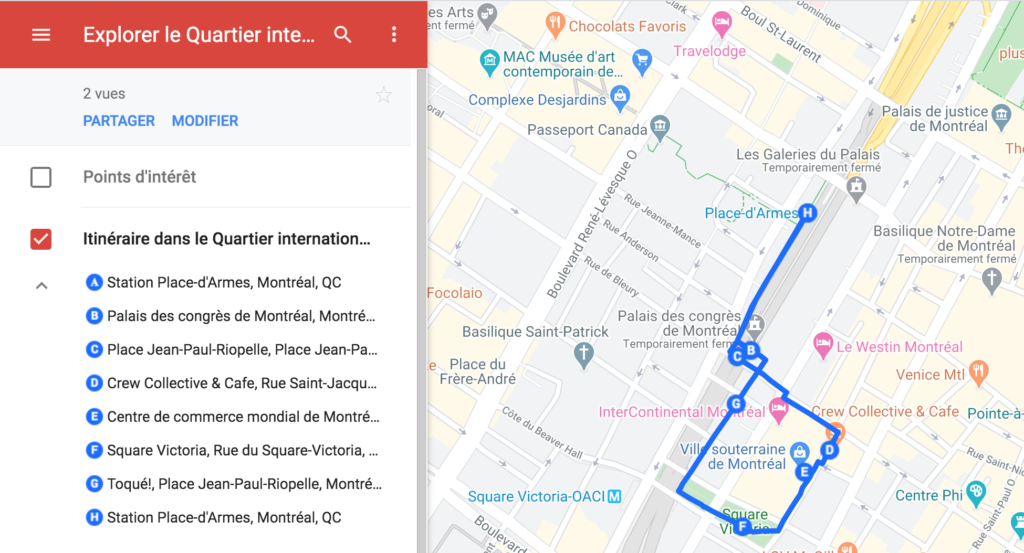 Take a tour of the district to discover its assets. Take a moment to stop at these accessible or partially accessible points of interest, positioned along a route totalling about a kilometre, or less than a mile.
Palais des congrès
Place Jean-Paul-Riopelle
World Trade Center Montreal
Crew & Collective Café
Square Victoria
Toqué!
Consult the individual fact files for all the technical details and photos illustrating accessibility.
Palais des congrès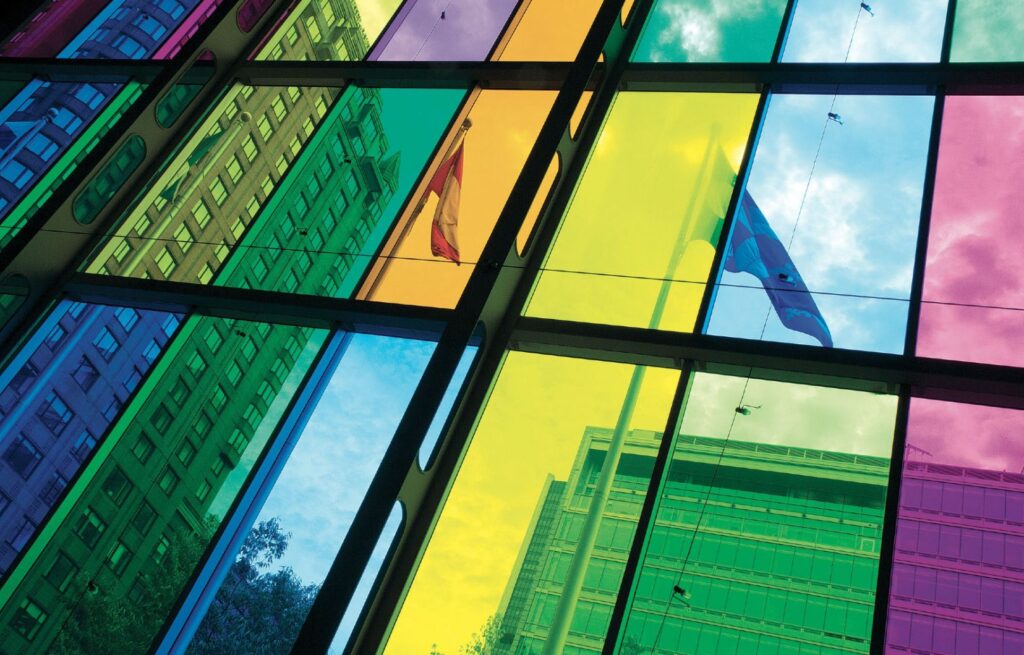 When you exit the Place-d'Armes station, you will be going through the Palais des congrès de Montreal. While it is not technically an attraction, its facilities and architecture remain intriguing. Its forest of pink trees and coloured stained glass windows offer a festive atmosphere that is hard to ignore, whether you are there for a congress, a conference or just passing through on your way out of the metro. We challenge you to find the tribute to André Leclerc, the founder of Kéroul!
Place Jean-Paul-Riopelle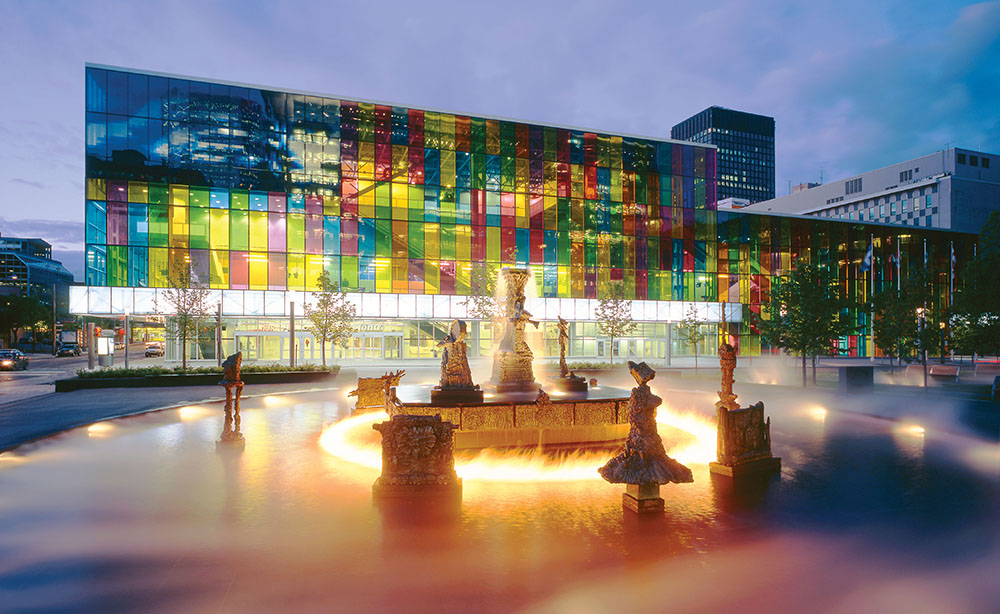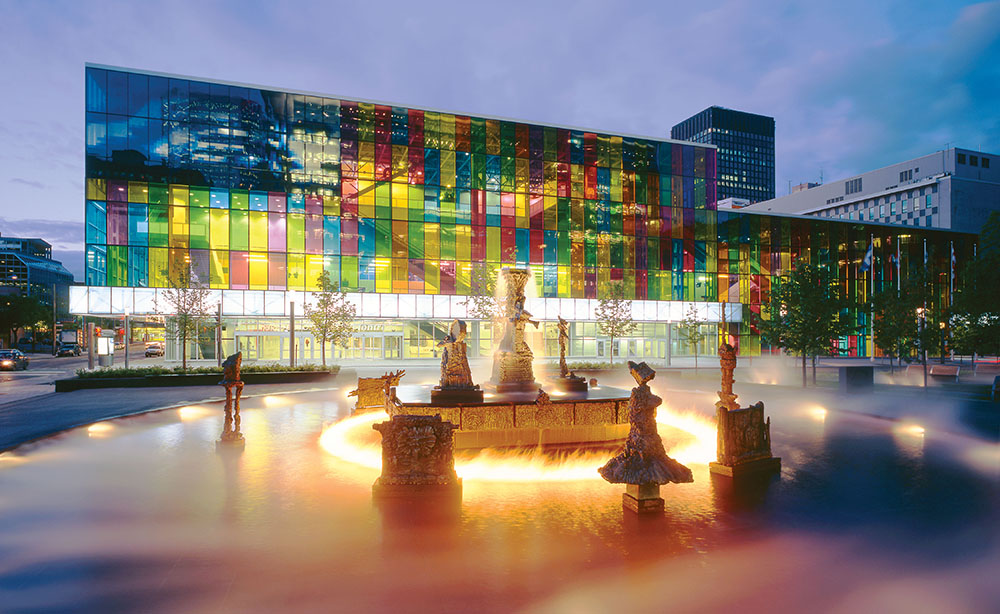 Place Jean-Paul-Riopelle is home to the famous sculpture La Joute, by the great Quebec artist. This monumental sculpture adorns a circular basin where a circle of fire comes to life at regular intervals on the surface of the water. Many visitors stop by to watch the spectacular play of lights, fog and flames that punctuate the evenings with 5 sessions of 30 minutes each. Amazing!
Before you continue, take a look at the monumental Jacques-Parizeau Building: a horizontal skyscraper, basically, but with award-winning architecture.
Centre de commerce mondial de Montréal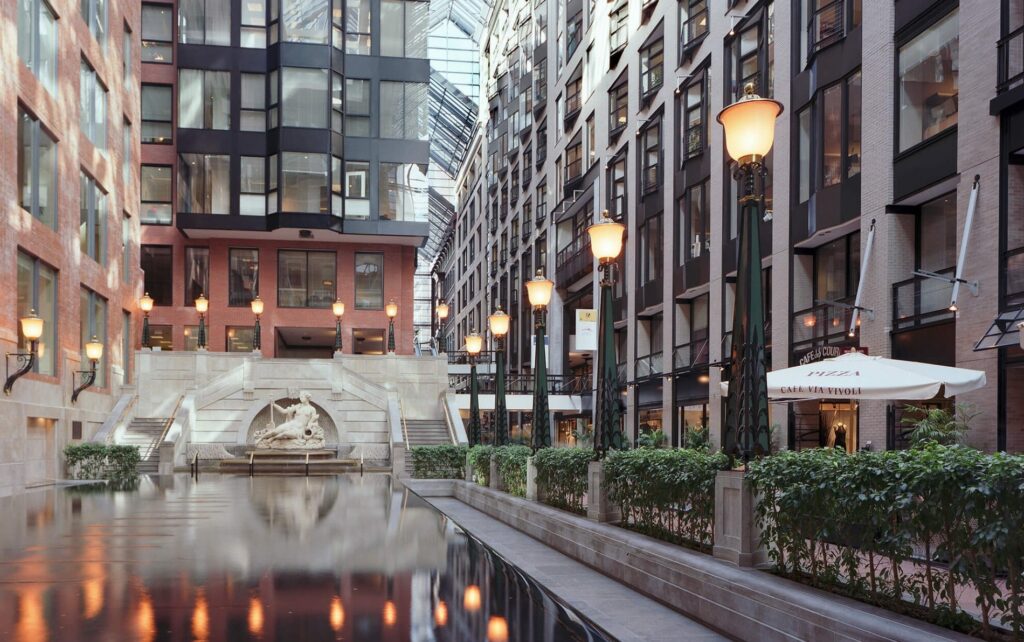 The modern architecture of Montreal's World Trade Centre combines several historic buildings and a portion of the old Fortifications Lane. A section of the Berlin Wall, a majestic fountain and the Circulations mural adorn the premises. This truly indoor village is covered by an imposing glass roof and is home to shops, restaurants and services!
While the interior is very easy to navigate with its wide aisles, the restrooms are a little less so. But there's still enough of a reason to visit!
Crew & Collective Café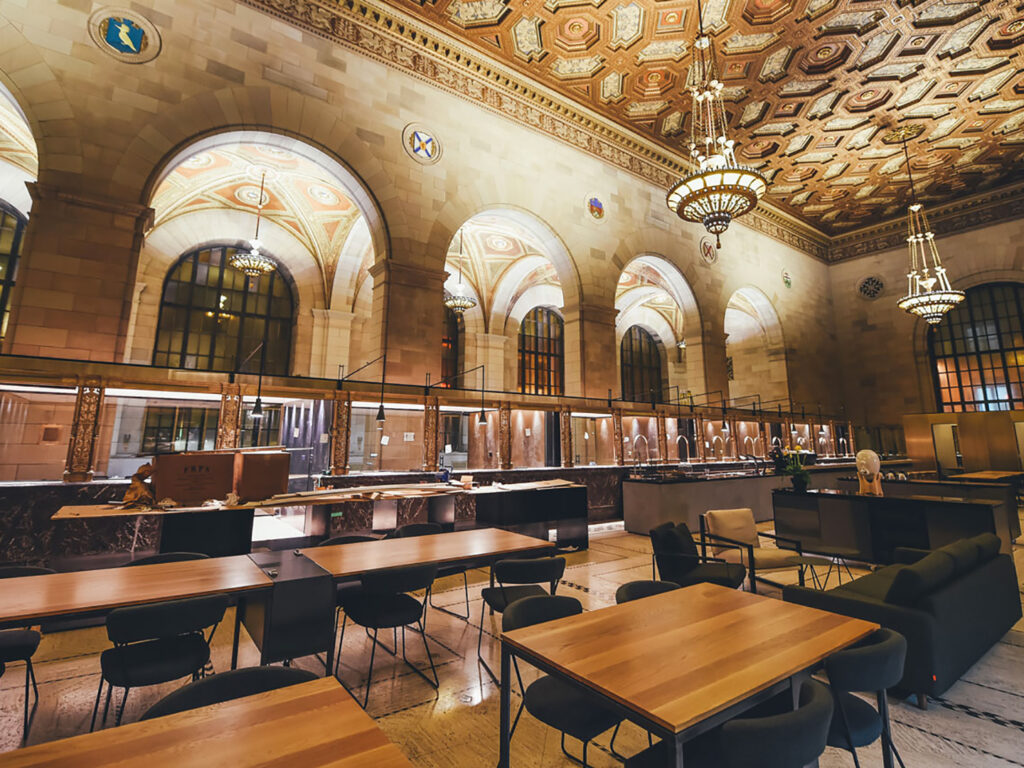 The Crew & Collective Café is often referred to as the most beautiful café in Montreal. Housed in the former Royal Bank of Canada building, the result is breathtaking. An impressive marble floor, a frescoed plaster ceiling and brass bank wickets recall another era. Revamped as a café and collaborative space, the establishment knows how to get noticed.
To get from the accessible entrance to the Crew & Collective Café, you'll have to use several elevators. The road ahead is a bit complex. The café is particularly aware of this: a simple, dynamic guide (available in English) has been designed to explain the different steps to be taken. A great way to get around architectural limitations!
Square Victoria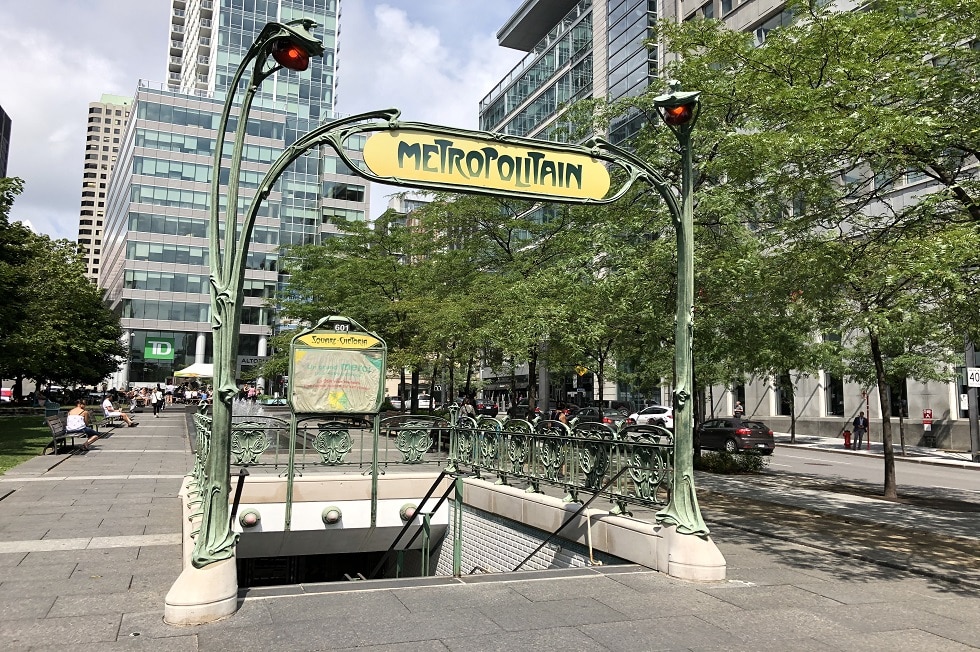 Victoria Square is a beautiful urban space, surprisingly quiet in this business district. Green flora, water fountains, contemporary-style public benches and several sculptures have been installed. The entrance to the Square-Victoria-OACI station—inaccessible because of stairs—is still worth a visit as it is decorated with an authentic Parisian metro entrance. This art nouveau style structure, designed by Hector Guimard in 1900, was given to the City of Montreal by the City of Paris during Expo 67.
Toqué!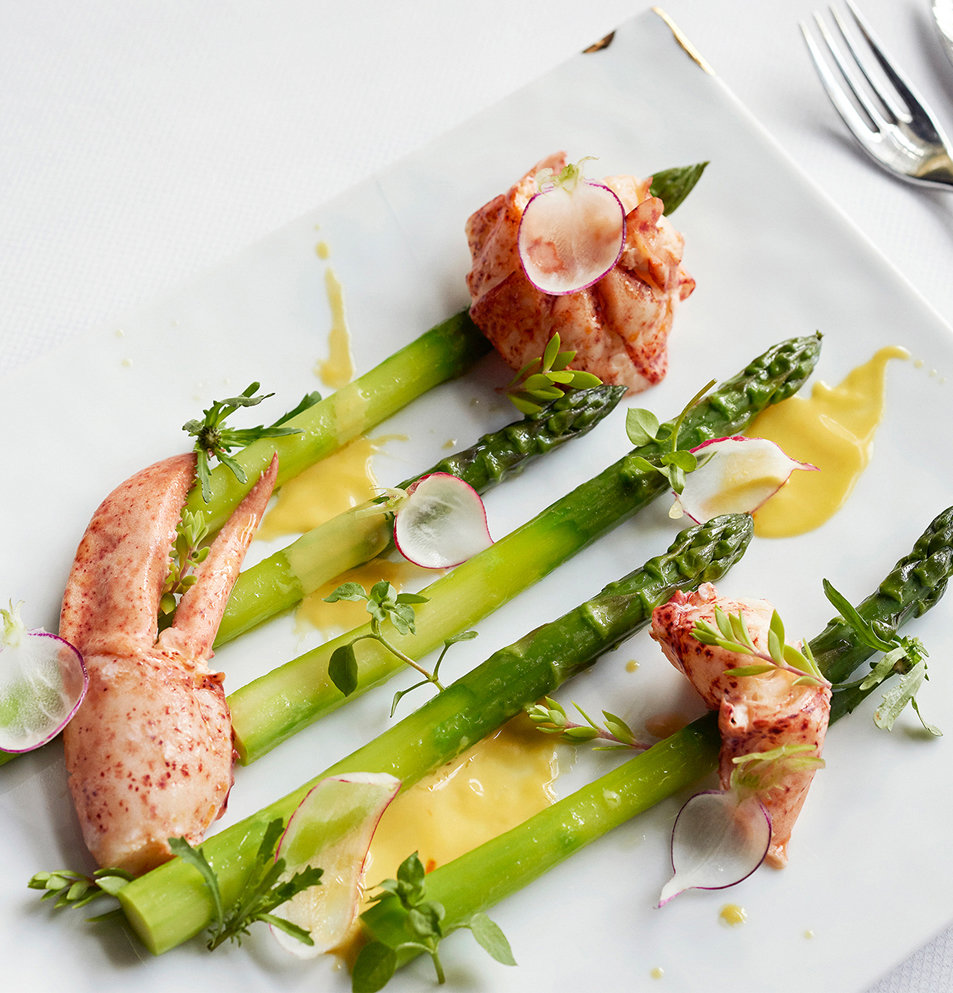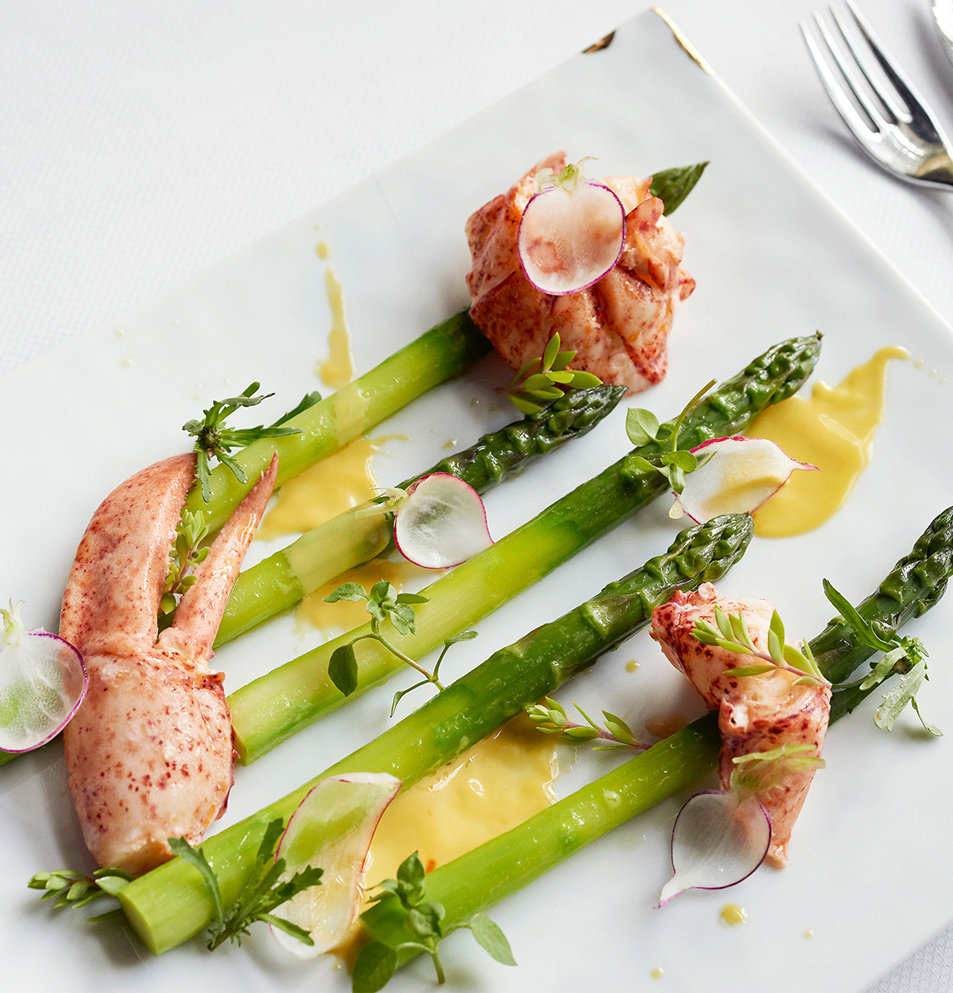 If you get to eat at only one Montreal restaurant in your life, this is it! A pioneer in the use of local and seasonal products, Toqué! is synonymous with gastronomy rooted in Quebec and its surroundings, drawing from local fields, rivers, ocean and forests.
It is the secondary entrance on the side of the building that is accessible. You're sure to find seating to your taste among the variety of furniture. The washroom is only partially accessible, however, mainly because of the door width: 78 cm (31 in.).
* If Toqué! or Crew & Collective Café don't suit your culinary or financial tastes, try your luck at gaZette, JAMES Le Restaurant or Osco! They are all rated accessible. *
Discover the neighbourhood by metro from Place-d'Armes station
Discover the city car-free with the Montreal metro! While this means of transport has many shortcomings in terms of accessibility, it also offers several opportunities. In fact, we have found 60 points of interest within 500 metres of the 16 accessible STM stations.


The area around the Place-d'Armes station in the Quartier international is worth a visit for its dynamic feel. The station's elevator can be accessed from the Saint-Urbain building at 960 Saint-Urbain street, circled in red on the map.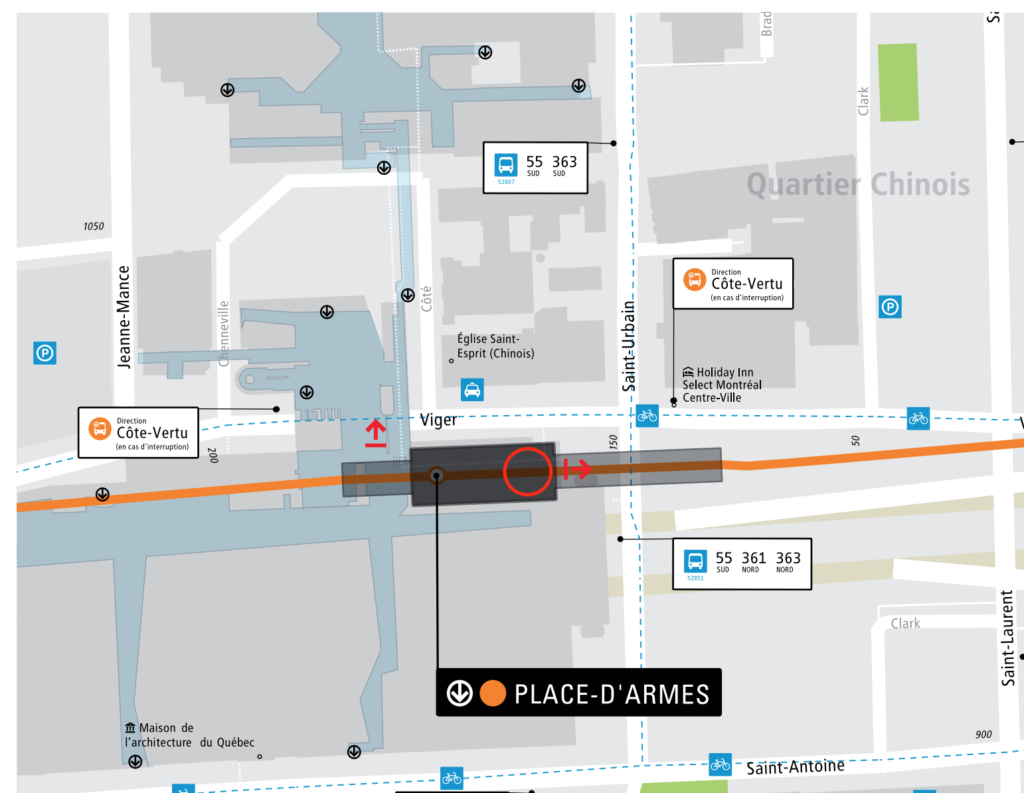 Enjoy your visit to this amazing area!