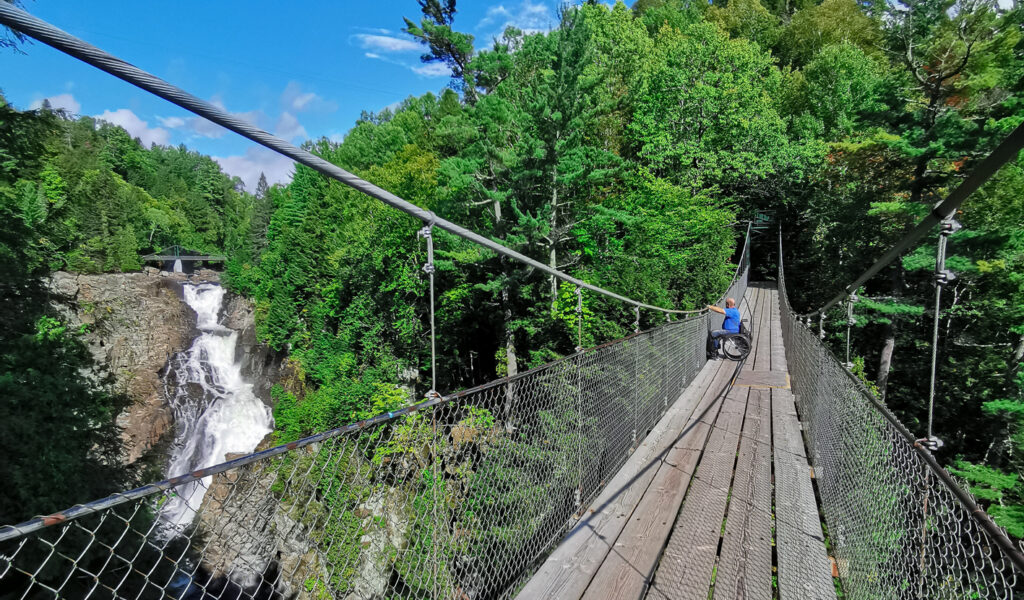 Experience the Québec Outdoors
Are the Québec outdoors accessible to people with disabilities? They sure are! You can get out and enjoy the great outdoors at plenty of spots in la belle province!
That's what we want to show you in this new video where Marie-Claude and Arnaud have fun experiencing open spaces with several friends.
Nothing like taking in the fresh air and discovering magnificent scenery! Spring is the best time for these outings: the snow is thawing, it's not too hot out, flowers are blooming and animals are re-emerging, searching for fresh food. It's simply breathtaking!
Check out three beautiful, accessible spots in this new video, shot in three different Québec regions:
Canyon Sainte-Anne, Beaupré: starting at the north shore, the adapted trails provide a pathway with spectacular views from the suspension bridges.
Île Saint-Bernard, Châteauguay: come and spend a relaxing day in the woods at the water's edge amidst the local fauna and flora.
Parc national d'Oka: easily accessible, this park has a swimming area and groomed trails for a relaxing day on the shores of Lake of Two Mountains.
---
---
Ideas for accessible and partially accessible outings
Doesn't our video inspire you? Of course, Québec has other accessible or partially accessible spots for people with reduced mobility or special needs.
Below is a list of some of the sites in Québec where you might enjoy taking in the fresh air.