Cultural and historical outing in Gatineau
Par Marie-Claude Lépine
---
---
A delightful first stop
We began our route by stopping in at ChocoMotive in Montebello. More than just a chocolate shop, it's an interpretive site on chocolate-making. This economuseum uses authentic know-how and certified fair trade and organic products. In the small shop's narrow aisles, you have to follow a one-way path with no detours possible. Besides chocolate, you'll also find some local agri-food and artisanal products. If you arrive early enough, you can watch the master chocolatiers through a window crafting their traditional pralines, and see the chocolate flowing gently into seasonal moulds.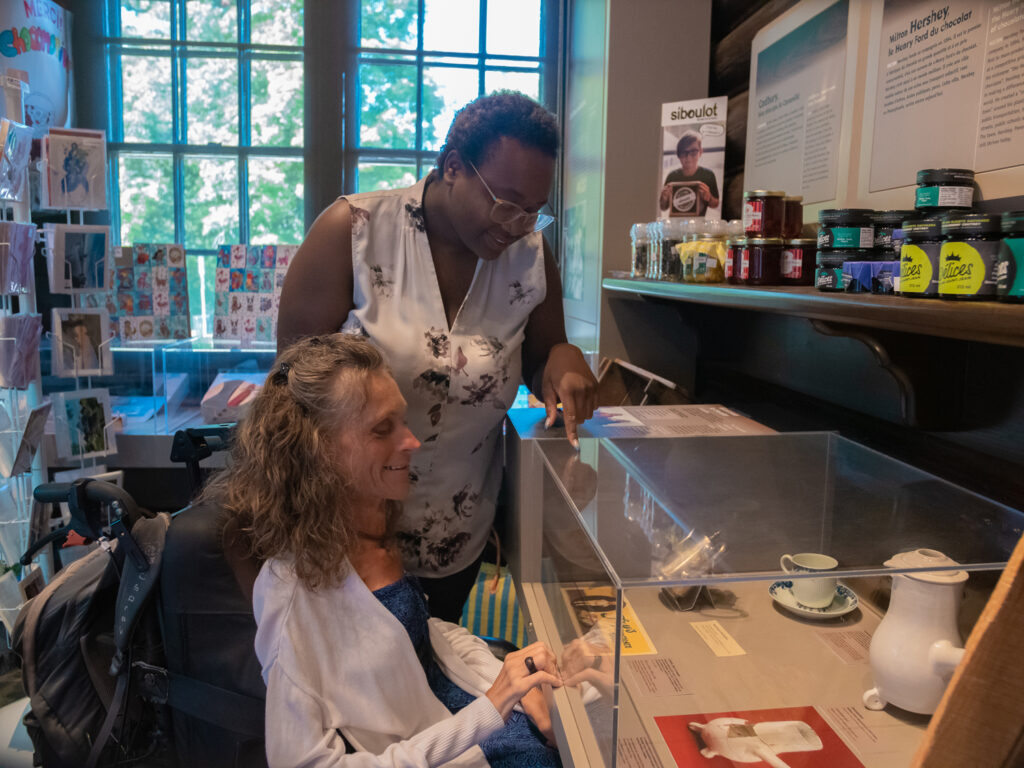 Surrounded by history and sailboats
Upon arriving in Gatineau, we headed to the Vieux-Aylmer neighbourhood, which is the city's best-preserved heritage district, dating back to the 19th century. The architecture of the buildings and homes provides an alluring backdrop. A pretty yellow house caught our attention in particular! I don't know if you're like me, but whenever I see a business with its doors wide open or that has a service counter outside, I feel invited to discover what it has to offer, and with no obstacles! So, we were able to order gelatos from the sidewalk at one of the best creameries in Québec, Cassis – Gelato and Sobet Maison.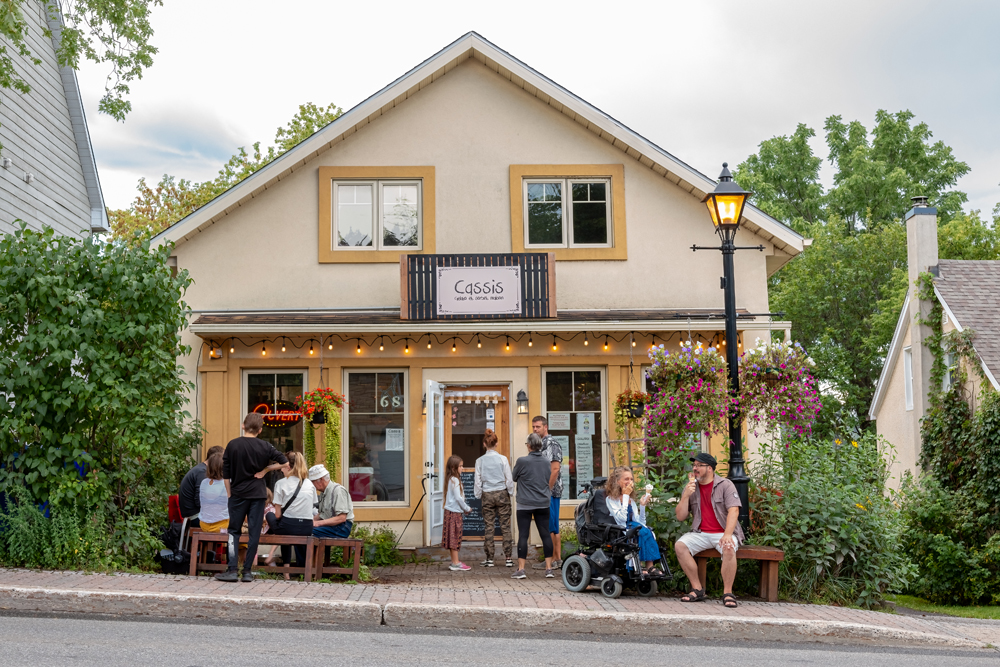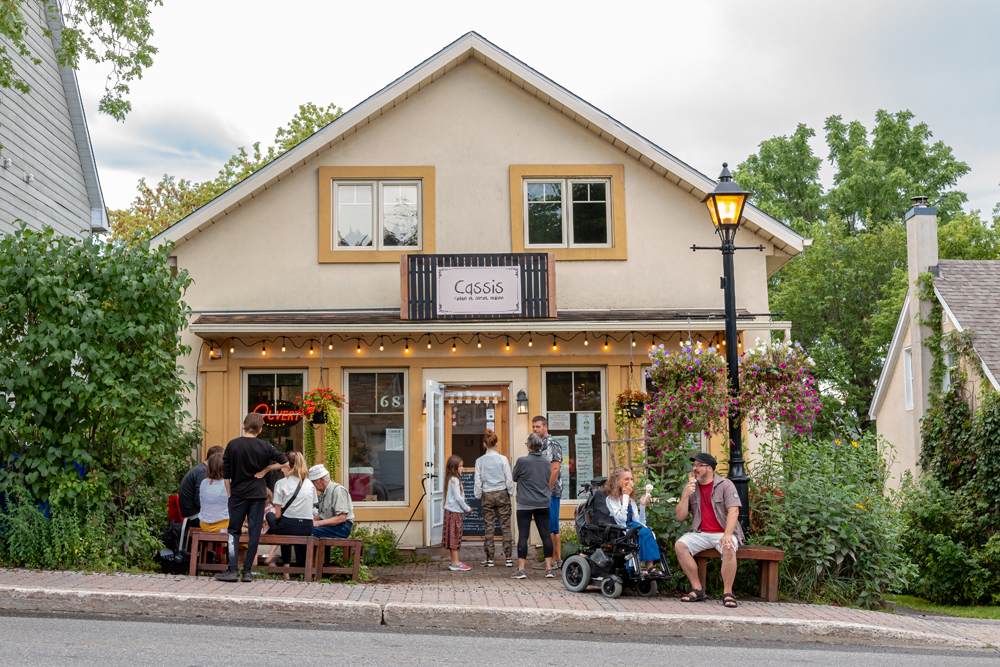 Since the village is nestled on the edge of the Ottawa River, we continued our way along, right to the Aylmer marina, just 10 minutes from the creamery. When we got to the main dock, we met up with our two local Gatineau extras, required for our film shoot. It started clouding over, and we only had time for a few shots before the rain started. We would have loved to have basked in the sun while watching the sailboats of all sizes come in an out of the marina, but that'll be for another time.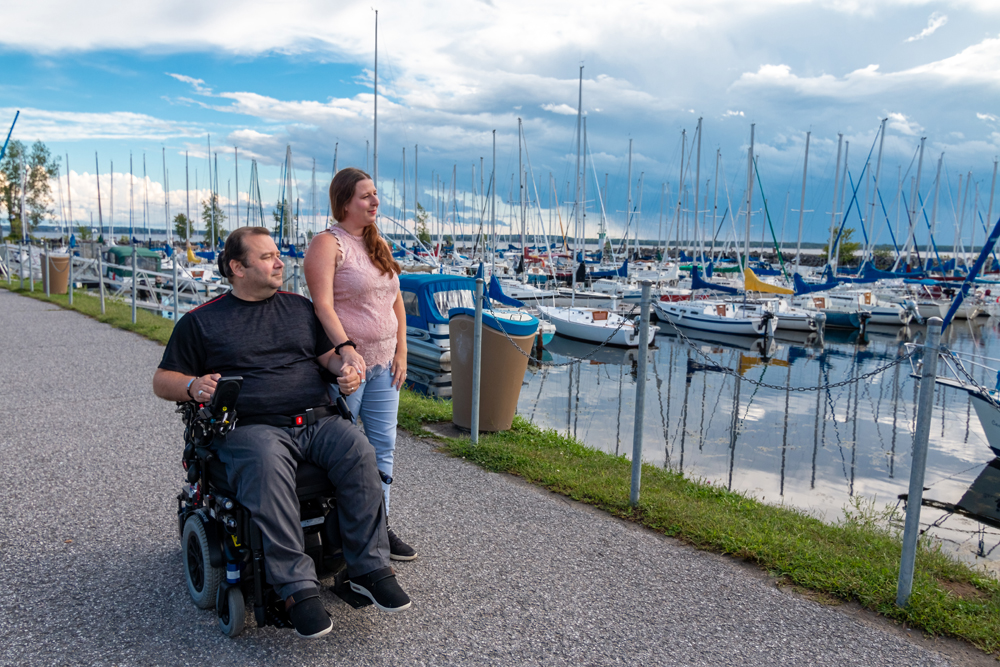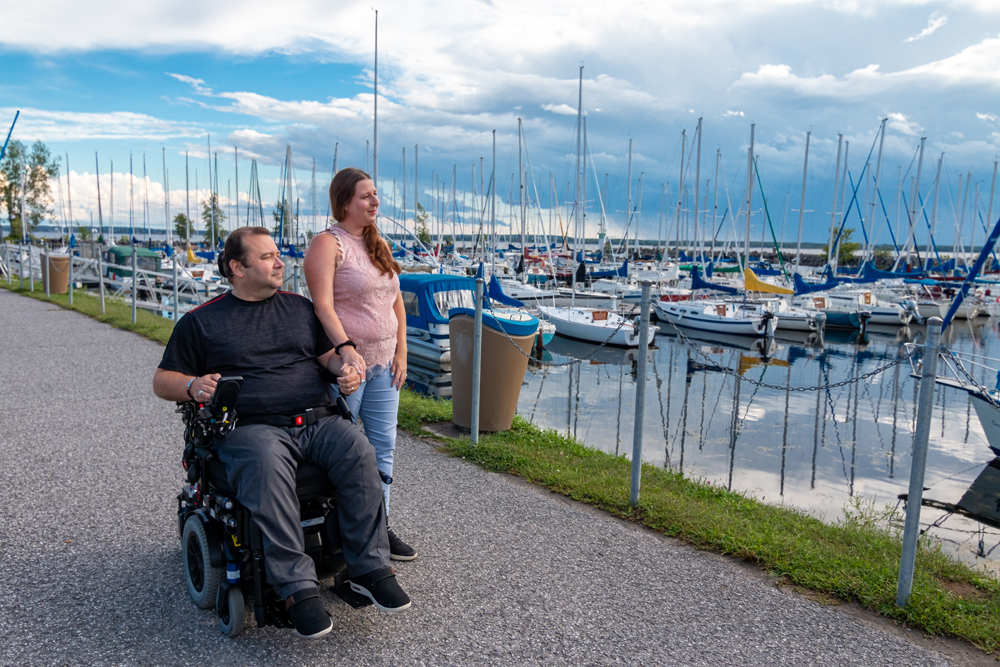 Next up was the old inn that Charles Symmes built in 1831, and that welcomed maritime passengers from Montréal. Now transformed into a museum, this establishment tells the story of the founder of Aylmer, Mr. Symmes, and that of four other important figures in the development of the Outaouais region. Unfortunately, visitors in wheelchairs only have access to the ground floor but since admission is free and the museum is only
100 metres from the marina, it's worth a visit, plus it has an accessible washroom.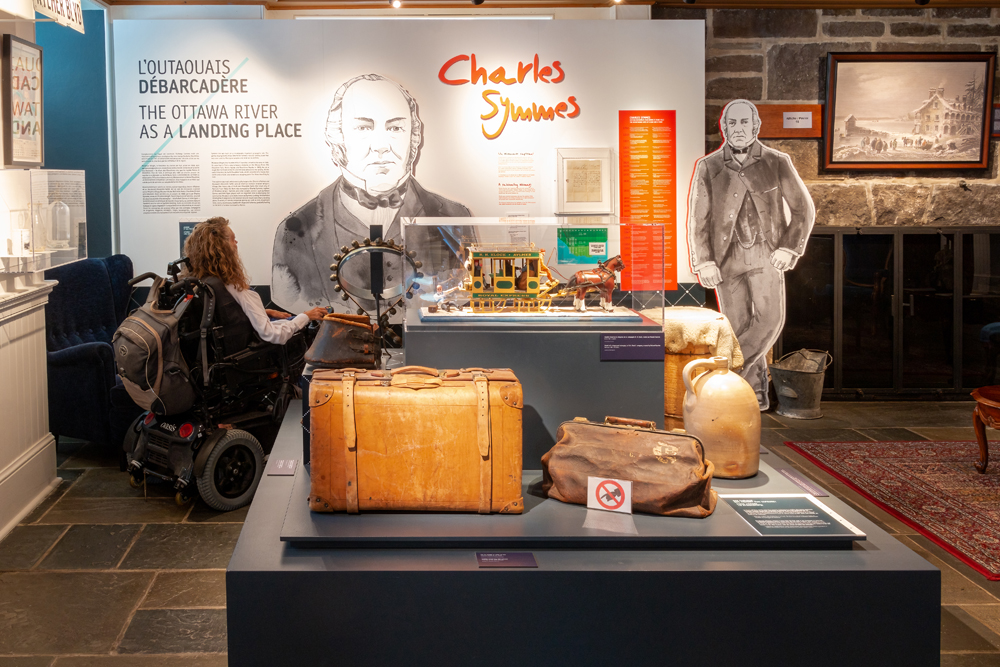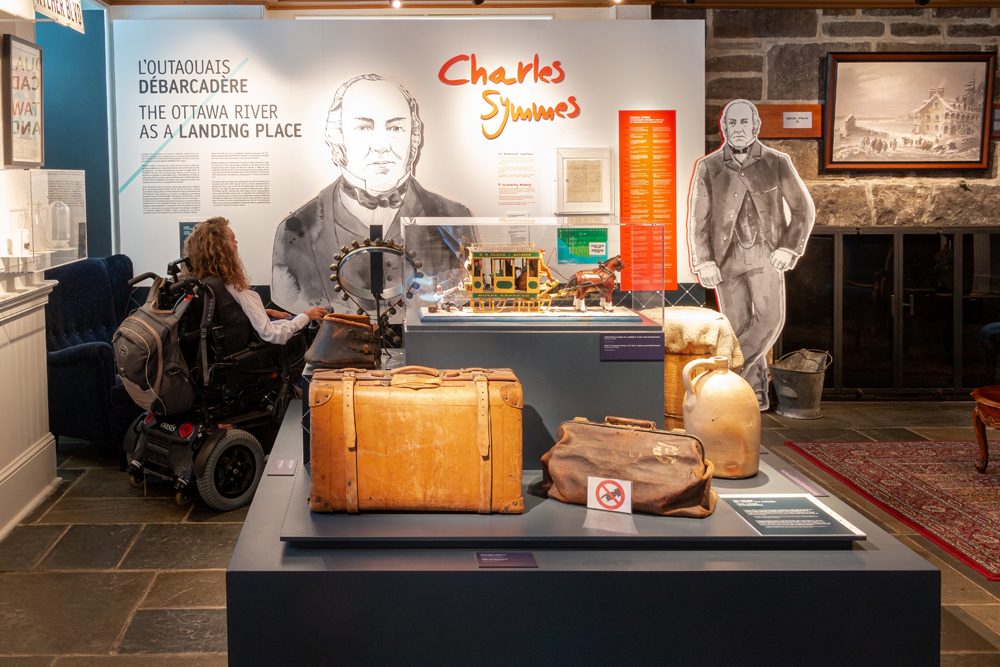 Shopping for local products
How many of you have had your wheelchair batteries die or a charger fail while travelling? What a hassle! Well, it happened to me on day two of the filming! Luckily, there's always a rehabilitation centre available to us in an emergency anywhere in Québec. While I was dealing with that, Dominique and his wife, our two extras, took over and went to meet the 25 producers, market gardeners and artisans at the Vieux-Hull public market. Lucky them! Catch them on the video enjoying local products and trying on some knitted items produced by talented craftspeople! The market is open on Thursdays in season.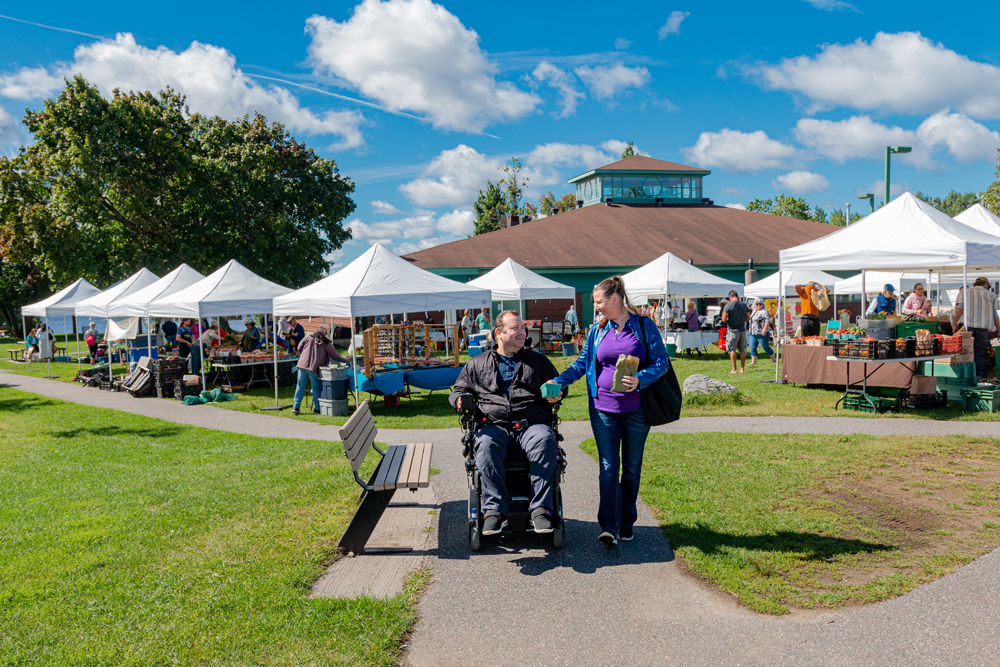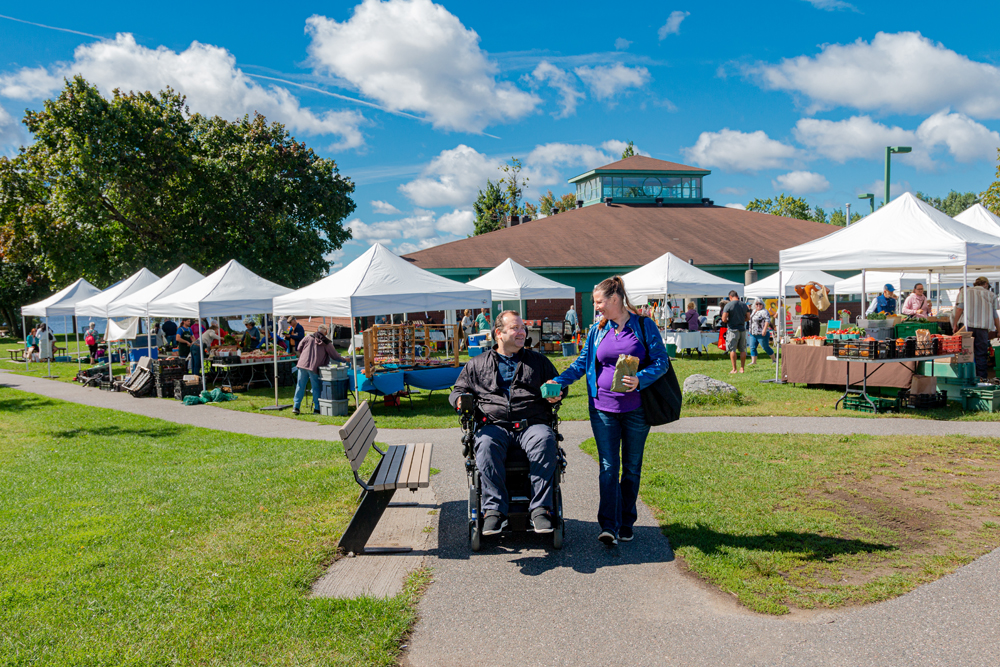 Beer break
Time for a pit stop! Here we are at the Les Brasseurs du temps microbrewery. I can certainly see why Paul St-Pierre Plamondon chose this site in the heart of downtown Hull for a break during the provincial election campaign… at the same time as us!
The stone building constructed in 1902 has a lot of character. And what about its fascinating brewery museum with its circular pathway gently descending into the heart of the distillery. The brewery's patio is as charming as ever, overlooking the Ruisseau de la Brasserie. This is a great spot to visit as much for its history as for its menu of delicious dishes accompanied by beer brewed right on site!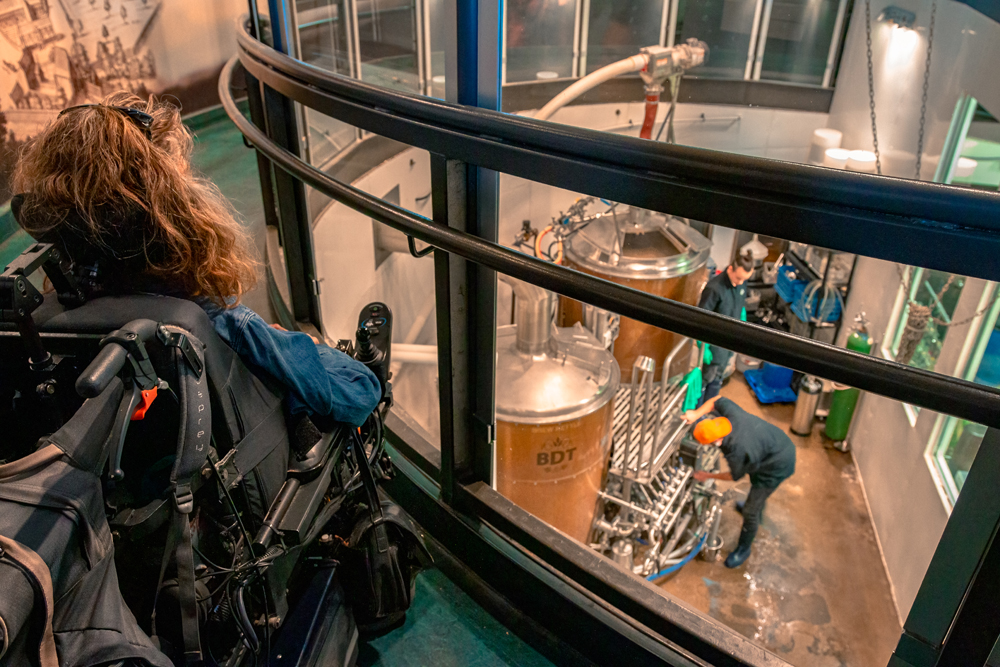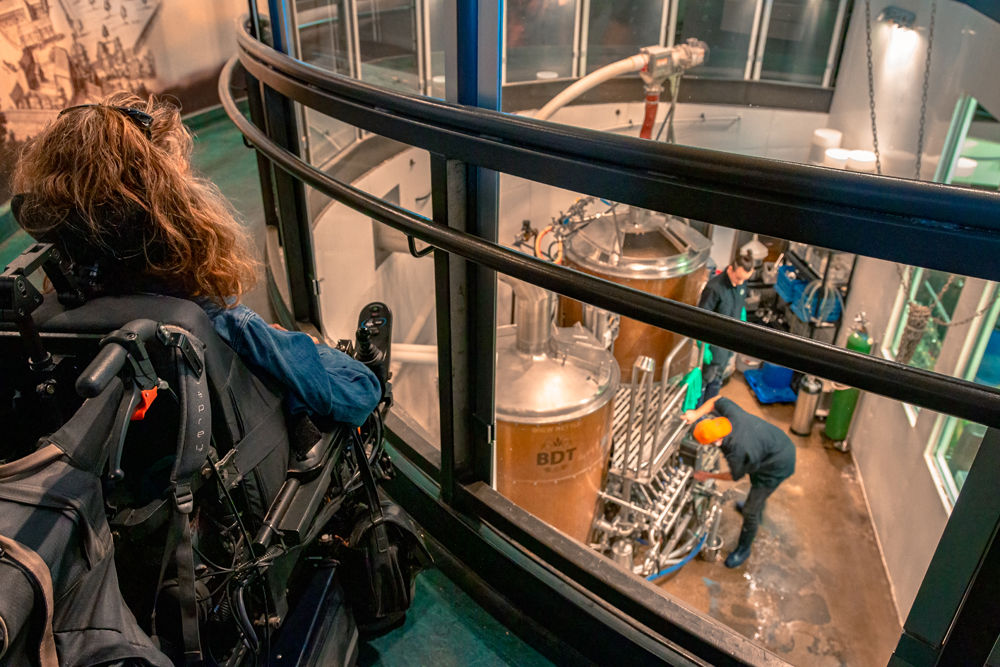 Into the heart of nature
Known as the lungs of the Outaouais region, Gatineau Park is accessible from downtown Gatineau and covers an area of more than 361 square kilometres. The second-most visited park in Canada, it is rich in biodiversity and offers a wide range of outdoor activities.
The park's Relais plein air centre is where to go to find adapted equipment for people with physical limitations to enjoy the trails in both summer and winter: tandem bikes, four-wheeled scooters, all-terrain wheelchairs, cross-country ski sleds, wheelchair ski platforms, etc. The Relais also has accessible washrooms, a restaurant area with a lowered counter and motorized adjustable tables.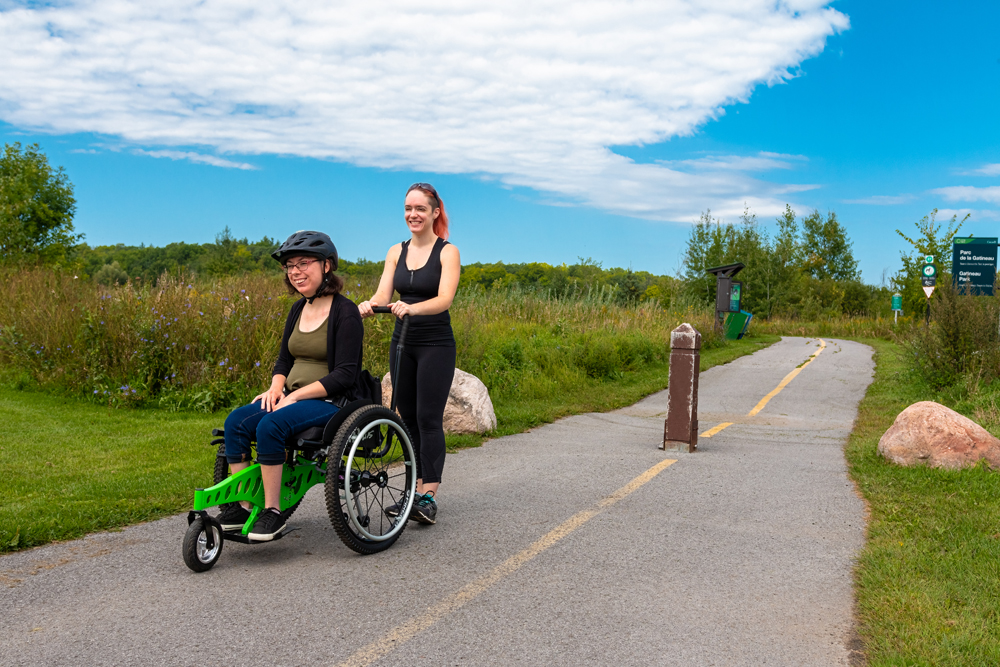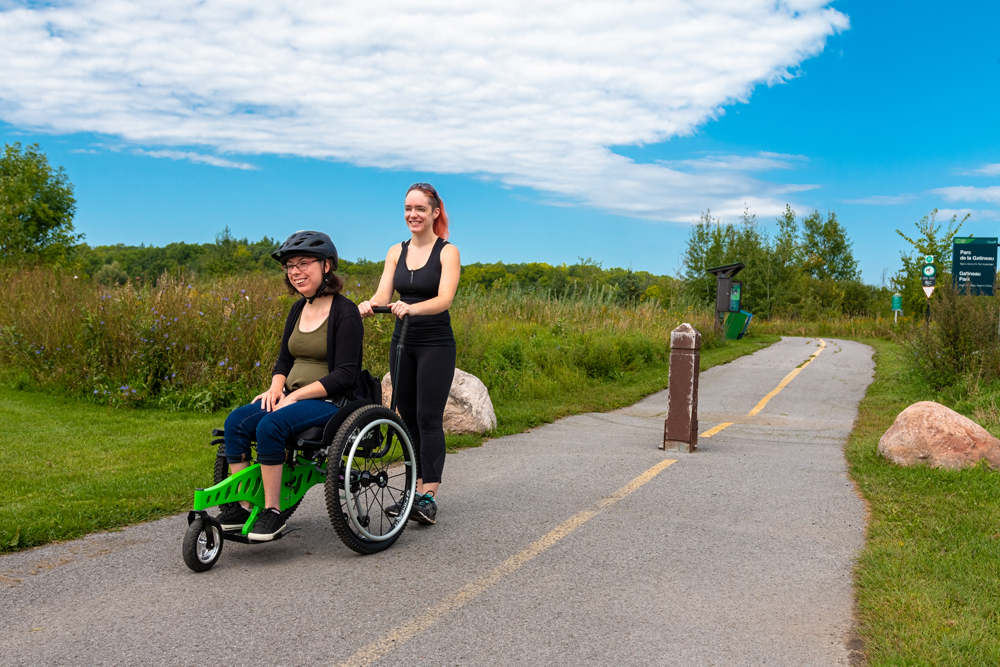 There's no need for a car to get to the park. Visitors in wheelchairs can use the free accessible shuttle service from downtown Gatineau. This Société de transport de l'Outaouais charter bus stops at 11 key tourist points, where you can get on and off as you please.
Urban cultural jaunt
To cap off this wonderful day of outdoor activities, we wound our way along the Culture Trail through the heart of Gatineau where you can discover urban art including murals, exhibitions, sculptures, a poetry trail, artists' centres and many other attractions.
You can explore this trail by following the markers on the ground starting at the Maison du tourisme. You can also use an app or a map. The trail crosses Carré Eddy and Rue Laval—pedestrianized in the summer—and provides a charming ambiance with its inviting patios just perfect for enjoying a bite or drink with friends.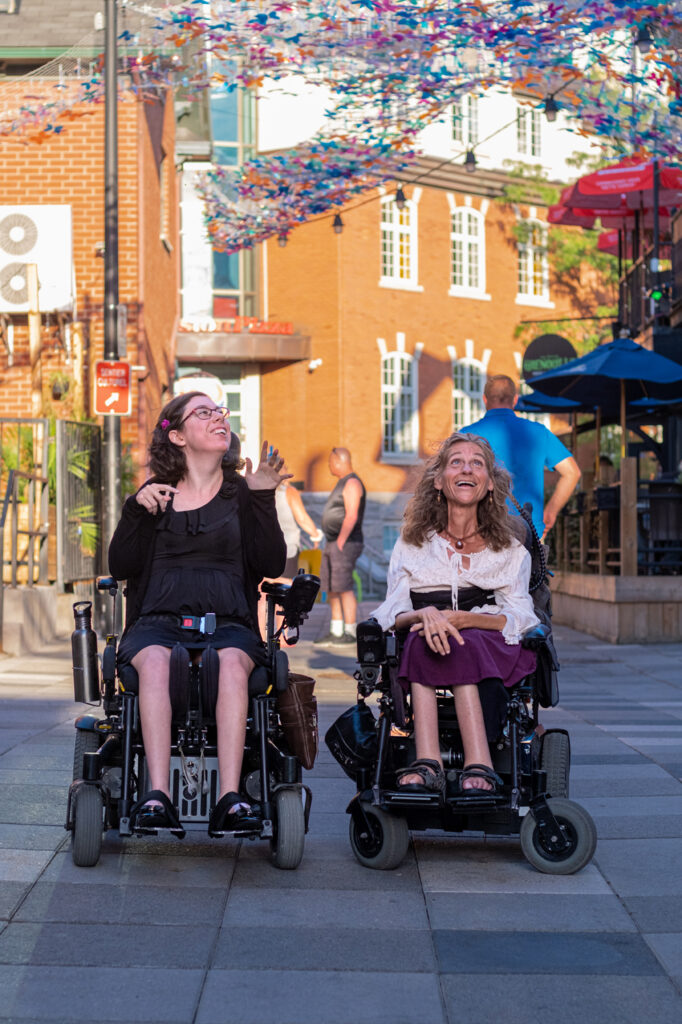 Colourful flights of fancy
We ended off our film shoot by wending our way along the Québec side of the Ottawa River. The Les Chemins d'eau tourist route spans 278 kilometres. We took the bike path on this route in the Parc de la Baie sector, where you can find accessible docks, benches and picnic tables.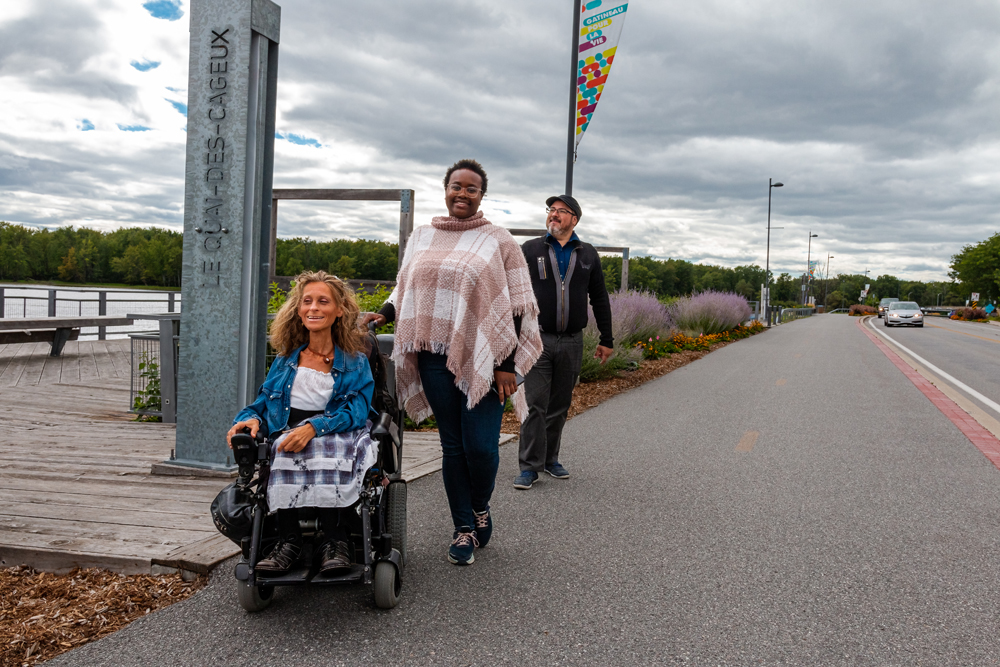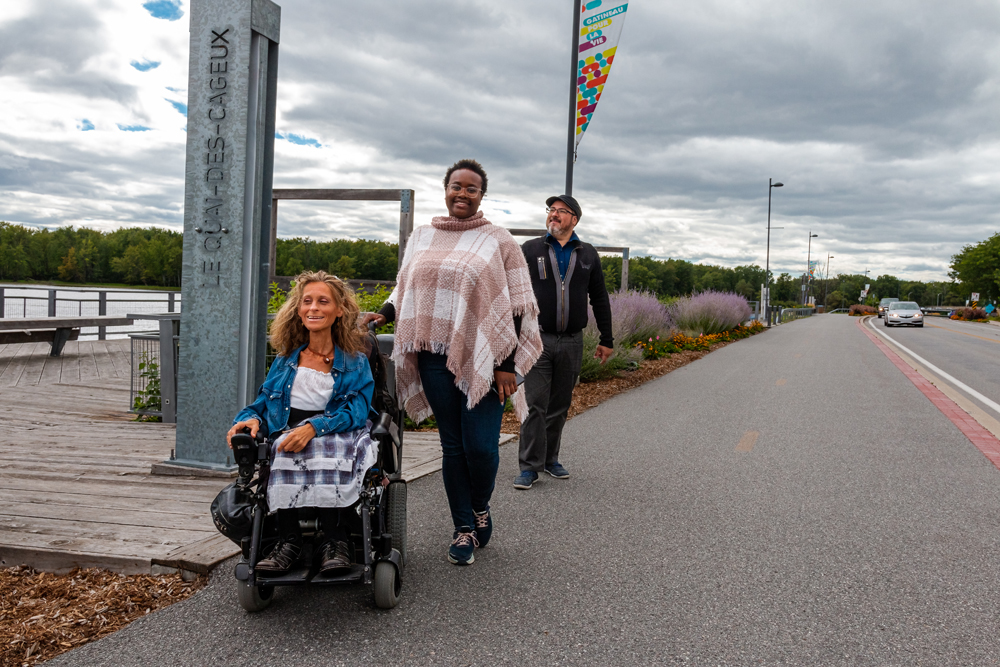 Then we visited the Parc de la Baie, which for more than 35 years has been home to the Gatineau Hot Air Balloon Festival, the largest summer event in the Outaouais region. This colourful festival boasts an amazing range of activities: amusement park, family zone, fireworks and a flight of hot air balloons. If you arrive early, you can go up in one of these balloons, but you have to be able to stand up since none of the baskets can yet accommodate a person in a wheelchair. While the rides aren't accessible, the majority of the on-site trails are, and in the summer of 2022 a viewing platformwas installed for watching the shows, balloons and fireworks.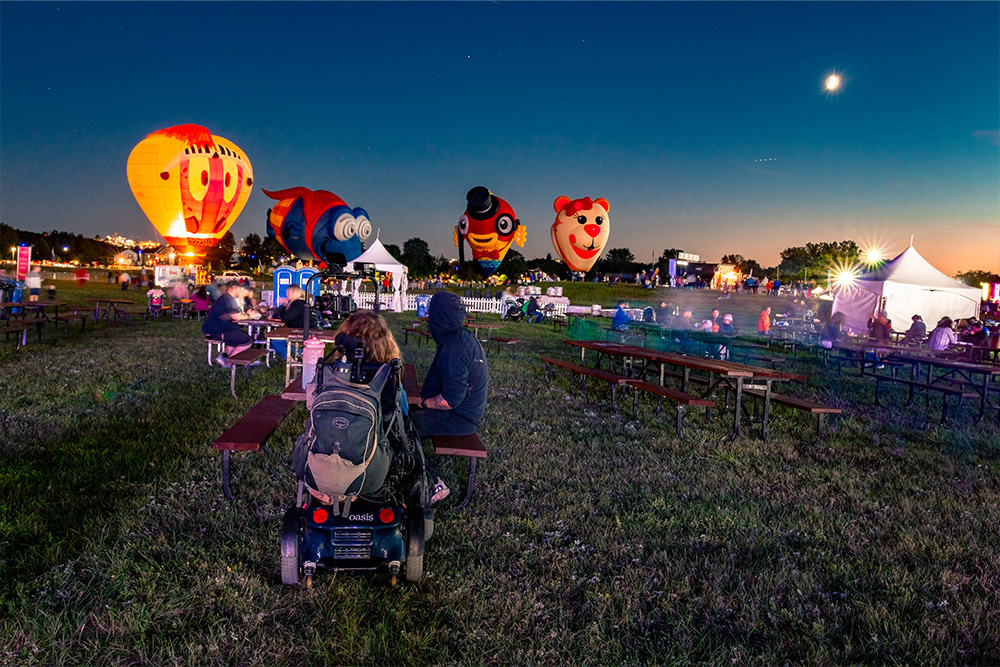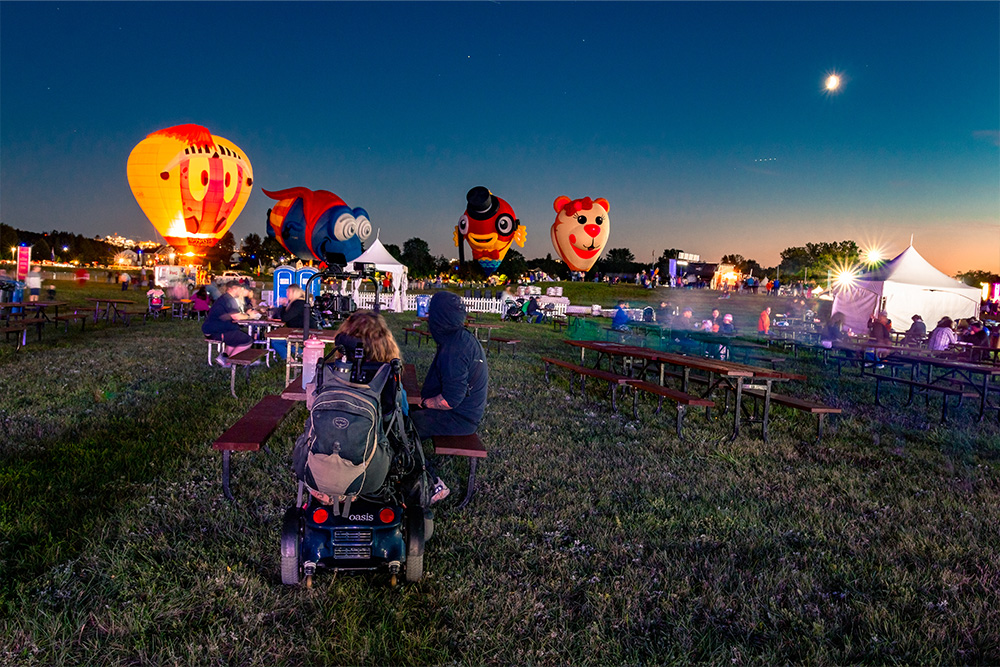 It's always a pleasure to take to the road and visit accessible tourist sites certified by Kéroul, to present them to you with sights and sounds. We can't wait to find out what corner of the province Kéroul will be taking us to this summer!
In the meantime, watch the video produced by Promo-Accès and enjoy a nice getaway to the Outaouais region!